Eccentric Plug Valve (EPV)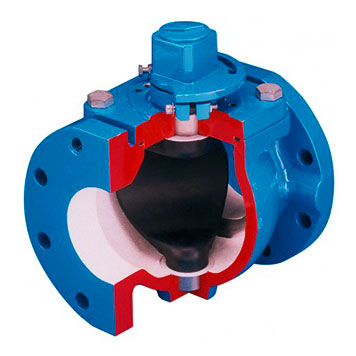 Overview
a. Cam centric design, lower friction, zero leakage.
b. Welded-in stainless steel, high performance resin seal can meet corrosion resistance requirements of various medium.
c. V type sealing ring can be changed on line without disassembling the operator.
d. Self-lubricated bearing provides very easy operation and low operation wearing.
e. Ductile iron plug covered wholly with rubber for drip-tight shut off assures excellent erode and corrosion resistance.
f. O-ring seals provide easy maintenance.
g. Linear characteristics can be used for throttling purpose.
h. Straight through flow design and column form body can meet max. flow capacity requirements without deposits.
i. Opening indication provides easy operation.
j. Available for manual, pneumatic and electric actuator operation.
Materials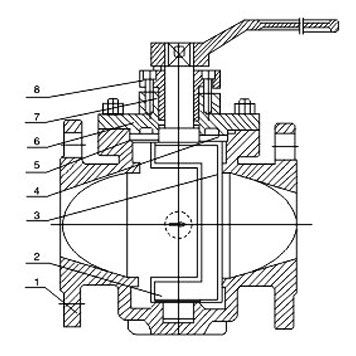 | | | |
| --- | --- | --- |
| NO | Part name | Material |
| 1 | Body | ASTM A216-WCB ASTM A351-CF8,CF8M,CF3,CF3M |
| 2 | Plug | ASTM A216-WCB ASTM A351-CF8,CF8M,CF3,CF3M |
| 3 | Seat | Stainless steel, Nickel, Resin |
| 4 | O-ring | EPDM,NBR |
| 5 | Bearing | Self-lubricated material |
| 6 | Bonnet | ASTM A216-WCB ASTM A351-CF8,CF8M,CF3,CF3M |
| 7 | V-ring | EPDM,NBR |
| 8 | Pressing plate | ASTM A216-WCB ASTM A351-CF8,CF8M,CF3,CF3M |
Dimensions and Weights
Pressure
150LB
Size
mm
15
20
25
32
40
50
65
80
100
125
150
200
250
300
350
in
1/2
3/4
1
11/4
11/2
2
21/2
3
4
5
6
8
10
12
14
L-RF
108
117
127
140
165
178
190
203
229
254
267
292
330
356
381
L-BW
152
178
203
216
229
267
305
330
356
381
394
457
533
610
686
H
59
63
75
95
107
142
152
178
252
272
342
398
495
580
625
W
400
400
500
500
600
600
820
820
300
300
320
320
350
380
380
Weight(kg)
10
12
14
17
19
21
29
33
48
75
98
125
171
230
370
Pressure
300LB
Size
mm
15
20
25
32
40
50
65
80
100
125
150
200
250
300
350
in
1/2
3/4
1
11/4
11/2
2
21/2
3
4
5
6
8
10
12
14
L-RF
140
152
165
178
190
216
241
283
305
381
403
419
457
502
762
L-BW
152
178
203
216
229
267
305
330
356
381
457
521
559
635
762
H
59
63
75
95
107
142
152
178
252
272
342
398
495
580
625
W
400
400
500
600
600
820
1000
1000
300
300
320
320
350
380
380
Weight(kg)
12
14
16
19
21
24
31
36
61
86
130
190
255
380
560
Pressure
600LB
Size
mm
15
20
25
32
40
50
65
80
100
125
150
200
250
300
350
in
1/2
3/4
1
11/4
11/2
2
21/2
3
4
5
6
8
10
12
14
L-RF,BW
165
190
216
229
241
292
330
356
432
508
559
660
787
838
889
H
59
63
75
95
107
142
152
178
252
272
342
398
495
580
625
W
400
400
500
500
600
600
820
820
300
300
320
320
350
380
380
Weight(kg)
14
16
18
20
24
29
35
47
91
129
210
320
660
920
1250
Pressure
900LB
Size
mm
15
20
25
32
40
50
65
80
100
125
150
200
250
300
350
in
1/2
3/4
1
11/4
11/2
2
21/2
3
4
5
6
8
10
12
14
L-RF,BW
229
229
254
279
305
368
419
381
457
559
610
737
939
965
1029
H
59
63
75
95
107
142
152
178
252
272
342
398
495
580
625
W
400
400
500
600
600
820
1000
1000
300
300
320
320
350
380
380
Weight(kg)
17
29
21
24
30
37
44
65
110
160
255
380
810
1050
1460
Note: 4" or above with gear