Non-Leakage Chemical Process Pump
I Summary For Non-Leakage Chemical Process Pump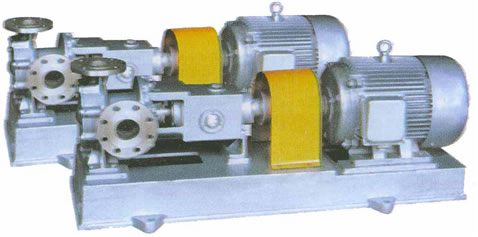 Non-Leakage Chemical Process Pump
Model JF non-leakage-type chemical process pump series was Remy in the early 2002 after continuous consummation and reformation on the basis of importation of newest foreign technologies of centrifugal pump and combination of the many years of production experience of our factory.
The mechanical sealing adopts negative pressure devices, which can be used for conveying of liquid for very long time under the continuously-increasing pressure and gradually-decreasing flow. THE MECHANICAL SEALING IS NOT SUBJICT TO WORKONG PRESSURE, it is guaranteed that the mechanical sealing will never leak, so it is an ideal device for construction of civilized factory.
The model JF anti-corrosion pump series is a single-stage-single-suction cantilever-type centrifugal pump. Its mark, rated performance and size are conformed to the standards of Bb5662-1985, which is corresponding to ISO2858-1975. It is the same type as IH type promoted by the state. Shaft seal: it can use mechanical seal, dynamic seal and packing seal, at the option of users.

II Technical Table For Non-Leakage Chemical Process Pump
Model
Speed
r/min
Capacity m3/h
Head m

Speed m3/h
Head
m
Efficiency %
kw
power
motor power
NPSH
m
JF50-32-160
1450
5~9
6.5~9.6
6.3
8
40
0.34
Select
gravity
of
fact
2.0
2900
10~15
25.6~33
12.5
32
46
2.37
2.0
JF50-32-250
1450
5~9
16~24
6.3
20
27
1.27
2.0
2900
10~15
64~86
12.5
80
33
8.25
2.0
JF65-50-160
1450
10~15
6.5~9.6
12.5
8
51
0.53
2.0
2900
20~30
25.6~33
25
32
57
3.82
2.0
JF65-50-160A
2900
18~27
20.8~31.2
22.5
26
55
2.9
2.0
JF65-40-200
1450
10~15
10~15
12.5
12.5
46
0.93
2.0
2900
20~30
40~60
25
50
52
6.5
2.0
JF65-40-250
1450
10~15
16~21
12.5
20
39
1.75
2.0
2900
20~30
64~85
25
80
46
11.84
2.0
JF65-40-250A
2900
18~27
55~80
23.3
69
46
9.52
2.5
JF65-40-315
1450
10~15
25.6~33
12.5
32
33
3.3
2.0
2900
20~30
100~127
25
125
39
21.8
2.0
JF80-65-160
1450
20~30
6.4~10
25
8
62
0.88
2.3
2900
40~60
29~35
50
32
67
6.5
2.3
JF80-65-160A
2900
37~56
24~33
46
28
62
5.64
2.3
JF80-50-200
1450
20~35
10~14
25
12.5
57
1.49
2.0
2900
40~60
46~54
50
50
63
10.8
2.5
JF80-50-200A
2900
37~56
34.5~46
46.5
43
61
8.9
2.5
JF80-50-250
1450
20~30
16~21
25
20
52
2.62
2.5
2900
40~60
72~87
50
80
57
19.11
2.5
JF80-50-315
1450
20~30
29~35
25
32
56
3.9
2.0
2900
40~60
100~127
50
125
51
33.36
2.0
JF100-80-160
1450
40~60
6.4~9
50
8
69
1.58
3.4
2900
70~120
26~35
100
32
73
11.9
2.5
JF100-80-160A
2900
65~110
25~32
93
28
69
10.3
2.5
JF100-65-200
1450
40~60
10~15
50
12.5
68
2.5
3.9
1450
80~120
45~53
100
50
72
18.9
3.9
JF100-65-200A
2900
64~120
35~46
93
43
71
15.3
3.9
JF100-65-250
2900
40~60
16~22
50
20
63
4.3
3.6
1450
70~130
70~84
100
80
65
33.5
3.6
JF100-65-250A
2900
65~120
60~74
93
69
65
26.8
3.6
JF100-65-250B
2900
70~105
49~72
87
60.5
65
22.1
3.6
JF100-65-315
2900
35~65
30~33
50
32
60
7.26
2.0
JF125-100-250
1450
80~120
16~32
100
20
72
7.56
2.3
1450
160~240
70~15
200
80
75
58
4.5
JF125-100-250A
2900
160200~
52~54
180
65
72
44.3
4.5
JF125-100-315
2900
80~120
28~50
100
32
67
13
2.0
1450
160~240
96~15
200
125
70
97.2
5.2
JF125-100-315A
2900
160~200
81~53
180
101
69
71.9
5.0
JF125-100-400
2900
70~140
42~46
100
50
62
22
2.3
JF150-125-250
1450
150~300
13~84
200
20
76.8
14
2.8
JF150-125-315
1450
160~250
28~72
200
32
77
22.63
2.8
JF150-125-315A
1450
150~240
21~33
180
26
72
17.7
3.5
JF200-150-250
1450
250~520
12~114
400
20
80
27.2
3.5
JF200-150-315
1450
250~520
28~15
400
32
79
44.1
3.5
JF200-150-400
1450
300~550
40~46
400
50
78
69.8
3.5
JF200-150-400A
1450
300~500
38~24
360
43
73
57.7
3.5
JF300-250-400V
1450
650~1000
24~85
800
32
79
88.2
3.5
JF300-250-400IV
1450
500~700
28~80
600
38
70
88.6
3.5