Fij Series Chemical Centrifugal Pump
I Chemical Centrifugal Pump Summary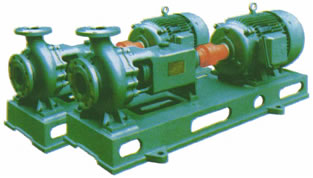 Fij Series Chemical Centrifugal Pump
On the basis of model IH pump series,model FIJ cantilever-type single-stage-single-suction centrifugal chemical pump is a new product which is designed with overseas updated technologies for reference.Its rated performance and install at-ion dimension are up to ISO2858 standards,while its production technology less than 50% solid granules in chemical process.
CoMPared with model IH pump, model FIJ chemical centrifugal pump hays the following features in structure:
Shortened cantilever of the blade wheel, and increased diameter of the shaft;
Spiral case of unsymmetrical section, pump casing without mouth ring;
Three imported bearings are used.
A new seal, which is similar to overseas advanced double-end mechanical seal or filling seal, is installed
Because of the above structure characters, the pump has the following advantages
When used in conveying media with high viscosity or containing solid granules, the pump has higher efficiency, compared with model IH pump.
The spiral case with unsymmetrical section may lower the shock loss of liquid and shorten the size of pump casing.
Because of increased strength of shaft and lowered deflection of rotor, the pump can operate smoothly and the seal have a long life.
Because the blade wheel and its nuts are integrated, it can improve the feeding condition of the pump and strengthen the cavitations-proof performance of the pump.
With advanced seal form, it is ensured that the pump has better seal effect and less leakage.
The gap of the pump can be adjusted without disassembling pump casing and blade wheel.
This can lower the maintenance time and save the maintenance cost.
II Chemical Centrifugal Pump Behaviour Parameter
Model
Capacity Q
Head
H(m)
Speed
(r/min)
Power
Efficiency
η
(%)
NPSH r (m)
m3/h
L/S
Shaft Power
Motor Power
FIJ32-20-125
3.2
0.88
20
2900
0.48
Select according
to viscosity
and
granity of liquid
35
5.0
FIJ32-20-160
3.2
0.88
32
0.93
30
3.5
FIJ32-20-200
3.2
0.88
50
1.62
27
4.0
FIJ32-20-250
3.2
0.88
80
4.1
17
4.5
FIJ40-20-125
6.3
1.74
20
0.66
52
5.0
FIJ40-25-160
6.3
1.74
32
1.53
36
3.5
FIJ40-25-200
6.3
1.74
50
2.52
34
3.5
FIJ40-25-250
6.3
1.74
80
5.3
26
4.5
FIJ50-32-125
7.5
2.08
23
2900
1.09
43
2.0
12.5
3.47
20
1.33
51
2.0
15.0
4.17
18
1.50
49
2.5
FIJ50-32-125A
6.8
1.89
18.8
2900
1.87
40
2.0
11.3
3.14
16.4
1.01
50
2.0
13.6
3.78
14.7
1.16
47
2.5
FIJ50-32-125
3.75
1.04
5.57
1450
0.16
36
2.0
6.3
1.74
5.0
0.19
45
2.0
7.5
2.08
4.5
0.21
44
2.0
FIJ50-32-125A
3.4
0.94
4.7
1450
0.13
33.3
2.0
5.7
1.59
4.1
0.149
43
2.0
6.8
1.89
3.7
0.163
42
2.2
FIJ50-32-160
7.5
2.08
34.5
2900
2.13
33
2.0
12.5
3.47
32
2.37
46
2.0
15.0
4.17
30
2.45
50
2.5
FIJ50-32-160A
6.8
1.89
28.5
2900
1.76
30
2.0
11.3
3.14
26.4
1.85
44
2.0
13.6
3.78
24.8
1.91
48
2.5
FIJ50-32-160
3.75
1.04
8.6
1450
0.30
29
2.0
6.3
1.74
8.0
0.34
40
2.0
7.5
2.08
7.5
0.36
43
2.2
FIJ50-32-160A
3.4
0.94
7.1
1450
0.253
25.9
2.0
5.7
1.59
6.6
0.277
37.1
2.0
6.8
1.89
6.2
0.280
41
2.2
FIJ50-32-200
7.5
2.08
51.8
2900
3.78
28
2.0
12.5
3.47
50
4.36
39
2.0
15.0
4.17
48
4.56
43
2.5
FIJ50-32-200A
6.8
1.89
42.7
2900
3.16
25
2.0
11.3
3.14
41
3.24
38
2.0
13.6
3.78
39.5
3.57
41
2.5
FIJ50-32-200
3.75
1.04
12.9
1450
0.57
23
2.0
6.3
1.74
12.5
0.65
33
2.0
7.5
2.08
12.0
0.68
36
2.2
FIJ50-32-200A
3.4
0.94
10.6
1450
0.488
20
2.0
5.7
1.59
10.3
0.516
31
2.0
6.8
1.89
9.9
0.540
34
2.2
FIJ50-32-250
7.5
2.08
82
2900
7.28
23
2.0
12.5
3.47
80
8.25
33
2.0
15.0
4.17
78.5
8.79
36.5
2.5
FIJ50-32-250A
7
1.94
71.9
2900
6.84
20
2.0
11.7
3.25
70
6.97
32
2.0
14
3.89
68.8
7.71
34
2.5
FIJ50-32-250B
6.6
1.83
63.6
2900
5.71
20
2.0
11.0
3.06
62
6.19
30
2.0
FIJ50-32-250
3.75
1.04
20.5
1450
1.23
17
2.0
6.3
1.74
20
1.27
27
2.0
7.5
2.08
6.2
1.29
31
2.2
FIJ50-32-250A
3.51
0.98
18.0
1450
1.12
15.4
2.0
5.9
1.64
17.5
1.125
25
2.0
7.02
1.95
17.2
1.18
27.9
2.2
FIJ65-50-125
15
4.17
21.3
2900
1.85
47
2.0
25
6.94
20
2.2
62
2.0
30
8.33
18.6
2.4
63
2.5

Model

Q
Capacity Q
Head
H(m)
Speed(r/min)
Power

Efficiency
η(%)
NPSH
r
(m)
M3/h
L/S
Shaft Power
Motor Power
FIJ65-50-125A
13.6
3.78
17.6
2900
1.48
Select according
to
viscosity
and
granite
of
liquid
44
2
22.7
6.31
16.5
1.67
61
2
27.3
7.58
15.4
1.91
59.9
2.5
FIJ65-50-125
7.5
2.08
5.4
1450
0.25
44
2
12.5
3.47
5
0.31
55
2
15
4.17
4.5
0.33
56
2.2
FIJ65-50-125A
6.8
1.89
4.5
1450
0.23
41
2
11.3
3.14
4.1
0.234
54
2
13.6
3.78
3.7
0.258
53
2.2
FIJ65-50-160
15
4.17
34.2
2900
3.18
44
2
25
6.94
32
3.82
57
2
30
8.33
30
4.15
59
2.5
FIJ65-50-160A
13.6
3.78
28.4
2900
2.56
41
2
22.7
6.31
26.5
2.93
56
2
27.3
7.58
24.8
3.29
56
2.5
FIJ65-50-160
7.5
2.08
8.55
1450
0.45
39
2
12.5
3.47
8
0.53
51
2
15
4.17
7.5
0.58
52.5
2.2
FIJ65-50-160A
6.8
1.89
7.09
1450
0.37
35.5
2
11.3
3.14
6.6
0.41
49.6
2
13.6
3.78
6.2
0.46
49.9
2.2
FIJ65-40-200
15
4.17
53.2
2900
5.3
41
2
25
6.94
50
6.55
52
2
30
8.33
47.6
7.27
53.5
2.5
FIJ65-40-200A
13.6
3.78
43.9
2900
4.28
38
2
22.7
6.31
41
5.07
50
2
27.3
7.58
39.3
5.73
51
2.5
FIJ65-40-200
7.5
2.08
13.3
1450
0.78
35
2
12.5
3.47
12.5
0.93
46
2
15
4.17
11.9
1.02
47.5
2.2
FIJ65-40-200A
6.8
1.89
11
1450
0.64
31.8
2
11.3
3.14
10.3
0.72
44
2
13.6
3.78
9.8
0.81
44.8
2.2
FIJ65-40-250
15
4.17
81.2
2900
9.76
34
2
25
6.94
80
11.84
46
2
30
8.33
78.4
12.8
50
2.5
FIJ65-40-250A
14
3.89
71
2900
8.73
31
2
23.4
6.5
74.8
10.6
45
2
28
7.78
68.6
11.13
47
2.5
FIJ65-40-250B
13.2
3.67
62.8
2900
7.29
31
2
22
6.11
61.8
8.42
44
2
26.4
7.33
53
8.45
45
2.5
FIJ65-40-250
7.5
2.08
20.3
1450
1.48
28
2
12.5
3.47
20
1.75
39
2
15
4.17
19.6
1.86
43
2.2
FIJ65-40-250A
7
1.94
17.8
1450
1.35
25
2
11.7
3.25
17.5
1.47
37.9
2
14
3.89
17.2
1.64
40
2.2
FIJ65-40-315
15
4.17
126.8
2900
18.5
28
2
25
6.94
125
21.8
39
2
30
8.33
124
23.8
42.5
2.5
FIJ65-40-315A
14
3.89
111.2
2900
18.1
25
2
23.4
6.5
109.5
18.36
38
2
28
7.78
108.8
22.12
40
2.5
FIJ65-40-315B
13.2
3.67
98
2900
14.69
24
2
22
6.11
96.5
15.63
37
2
26.4
7.33
95.9
17.67
39
2.5
FIJ65-40-315
7.5
2.08
32.4
1450
3
22
2
12.5
3.47
32
3.3
33
2
15
4.17
31.7
3.5
37
2.2
FIJ65-40-315A
7
1.94
28.4
1450
2.84
19
2
11.7
3.25
28
2.78
31
2
14
3.89
27.8
3.12
34
2.2

Model
Capacity Q
Head
H(m)
Speed
(r/min)
Power

Efficiency
η(%)
NPSH
r (m)
FIJ80-65-125
30
8.33
23.2
2900
3.16
Select according
to
viscosity
and
granite
of
liquid
60
3
50
13.9
20
3.95
69
3
60
16.7
17.6
4.29
67
4
FIJ80-65-125A
27.2
7.56
19.1
2900
2.48
57
3
45.3
12.58
16.5
3.04
67
3
54.4
15.12
14.5
3.36
64
4
FIJ80-65-125
15
4.17
5.8
1450
0.44
54
3
25
6.94
5
0.53
64
3
30
8.33
4.4
0.58
62
4
FIJ80-65-125A
13.6
3.78
4.8
1450
0.349
51
3
22.6
6.28
4.1
0.407
62
3
27.2
7.56
3.6
0.452
59
4
FIJ80-65-160
30
8.33
36
2900
5.16
57
2
50
13.9
32
6.5
67
2.3
60
16.7
28.4
7.14
65
3.3
FIJ80-65-160A
27.2
7.56
29.7
2900
4.08
54
2
45.4
12.6
26.4
5.02
65
2.3
54.4
15.12
23.4
5.39
62
3.3
FIJ80-65-160
15
4.17
9
1450
0.74
50
2
25
6.94
8
0.88
62
2.3
30
8.33
7.2
0.95
62
3.3
FIJ80-65-160A
13.6
3.78
7.4
1450
0.58
47.3
2
22.7
6.31
6.6
0.68
60
2.3
27.2
7.56
5.9
0.74
59
3.3
FIJ80-50-200
30
8.33
55.2
2900
8.5
53
2
50
13.9
50
10.8
63
2.5
60
16.7
45.2
11.9
62
3.2
FIJ80-50-200A
27.2
7.56
45.4
2900
6.73
50
2
45.3
12.58
41
8.29
61
2.5
54.4
15.12
37.2
9.35
59
3.2
FIJ80-50-200
15
4.17
13.5
1450
1.25
44
2
25
6.94
12.5
1.49
57
2.3
30
8.33
11.5
1.6
58
3.3
FIJ80-50-200A
13.6
3.78
11.1
1450
1
41
2
22.7
6.31
10.3
1.135
56.1
2.3
27.2
7.56
9.5
1.28
55
3.3
FIJ80-50-250
30
8.33
84
2900
16
43
2.5
50
13.9
80
20.6
53
2.5
60
16.7
75
12.7
54
2.5
FIJ80-50-250A
28.14
7.82
73.55
2900
13.2
42.7
2.5
46.9
13.03
70.5
16.1
56
2.5
56.28
15.63
67.4
17.8
58.03
3
FIJ80-50-250B
26.4
7.33
64.8
2900
11.4
40.86
2.5
44
12.22
62.2
13.8
54
2.5
52.8
14.67
60
15
57.52
3
FIJ80-50-250
15
4.17
21
1450
2.15
40
2.5
25
6.94
20
2.72
50
2.5
30
8.33
18.8
3.01
51
2.5
FIJ80-50-250A
14.04
3.9
18.2
1450
1.66
42
2.5
23.4
6.5
17.6
2.25
50
2.5
28.08
7.8
16.7
2.63
48.5
2.5
FIJ80-50-315
30
8.33
128
2900
33.1
38
2.5
50
13.9
125
34.1
50
2.5
60
16.7
123
38
53
3
FIJ80-50-315A
28.14
7.82
113.4
2900
21.5
40.4
2
46.9
13.03
110
28.1
50
2
56.28
15.63
107.7
30
55
2.5
FIJ80-50-315B
26.4
7.33
100.5
2900
17
43.5
2
44
12.22
97
24.2
48
2
52.8
14.67
95
25
54.6
2.5
FIJ80-50-315
15
4.17
32.5
1450
3.59
37
2.5
25
6.94
32
4.54
48
2.5
30
8.33
31.5
4.95
52
3

Model
Capacity Q
Head
H(m)
Speed
(r/min)
Power

Efficiency
η(%)
NPSH
r (m)
FIJ80-50-315A
14.1
3.92
29.2
1450
3.52
Select according
to
viscosity
and
granite
of
liquid
31.8
2.5
23.5
6.53
28.3
4.12
44
2.5
28.2
7.83
27.1
4.41
47.2
3
FIJ100-80-125
60
16.7
23.7
2900
5.96
65
3
100
27.8
20
7.47
73
4.2
120
33.3
16.3
7.72
69
4.8
FIJ100-80-125A
55
15.3
19.4
2900
4.68
62
3
91.8
25.5
16.8
5.9
71
4.2
109
30.5
13.7
6.12
67
4.8
FIJ100-80-160
60
16.7
37
2900
10.1
60
3.8
100
27.8
32
11.9
73
4.3
120
33.3
28
12.5
73
5
FIJ100-80-160A
54.6
15.17
30.6
2900
7.98
57
3.8
91
25.28
26.5
9.25
71
4.3
109.2
30.34
23.2
9.85
70.4
5
FIJ100-80-160
30
8.33
9.25
1450
1.3
58
3.8
50
13.9
8
1.58
69
4.3
60
16.7
7
1.68
68
5
FIJ100-80-160A
27.3
7.58
7.66
1450
1.03
55.3
3.8
45.5
12.64
6.6
1.22
67
4.3
54.6
15.16
5.8
1.32
65.3
5
FIJ100-65-200
60
16.7
56
2900
14.5
63
3.4
100
27.8
50
18.9
72
3.9
120
23.3
44
20.3
71
5.2
FIJ100-65-200A
54.6
15.17
46.5
2900
11.5
60.1
3.4
91
25.28
41.5
14.7
70
3.9
109.2
30.34
36.6
16
68
5.2
FIJ100-65-200
30
8.33
14
1450
1.91
60
3.4
50
13.9
12.5
2.5
68
3.9
60
16.7
11
2.85
63
5.3
FIJ100-65-200A
27.3
7.58
11.6
1450
1.51
57
3.4
45.5
12.64
10.3
1.83
66
3.9
54.6
15.16
9.1
2.25
60.1
5.2
FIJ100-65-250
60
16.7
88
2900
25.2
57
3
100
27.8
80
32
68
3.6
120
33.3
74
36.1
67
4.5
FIJ100-65-250A
56.11
15.58
77
2900
21.8
54
3
93.5
25.97
70
27.4
65
3.6
112.2
31.16
64.7
30.9
64
4.5
FIJ100-65-250B
52.7
14.64
67.9
2900
18.3
53.3
3
87.8
24.39
61.7
23.1
64
3.6
105.4
29.28
57
26
62.9
4.5
FIJ100-65-250
30
8.33
22
1450
3.6
50
3
50
13.9
20
4.3
63
3.6
60
16.7
18.5
4.7
64
4.5
FIJ100-65-250A
28
7.79
19.2
1450
3.12
47
3
45.5
12.64
17.4
3.53
61
3.6
56
15.58
16.2
4.06
60.9
4.5
FIJ100-65-315
60
16.7
132
2900
44.9
48
2.8
100
27.8
125
54.9
62
3.2
120
33.8
119
60.8
64
4.2
FIJ100-65-315A
56.1
15.58
115.5
2900
39.2
45
2.8
93.5
25.97
109
45.5
61
3.2
112.2
31.16
104
52.1
61
4.2
FIJ100-65-315B
52.7
14.64
102
2900
33.3
44
2.8
88
24.44
97
38.7
60
3.2
105.4
29.28
92
44
60
4.2
FIJ100-65-315
30
8.33
33.5
1450
6.2
44
2.8
50
13.9
32
7.5
58
3.2
60
16.7
30.5
8.3
60
4.2
FIJ100-65-315A
28
7.79
29.3
1450
5.46
41
2.8
46.5
12.92
28
6.33
56
3.2
56
15.58
26.7
7.15
57
4.2

Model
Capacity Q
Head
H(m)
Speed
(r/min)
Power

Efficiency
η(%)
NPSH
r (m)
FIJ125-80-160
2900
Select according
to
viscosity
and
granite
of
liquid
160
44.4
32
17.7
79
5.3
FIJ125-80-200
2900
160
44.4
50
28.3
77
4.3
FIJ125-80-200
2900
160
44.4
80
47.1
74
4
FIJ125-100-200
120
33.3
61
2900
29.3
68
4.5
200
55.6
50
35.4
77
5
240
66.7
41
38.3
70
5.8
FIJ125-100-200A
109.1
30.3
50.5
2900
23.1
64.9
4.5
182
50.56
41.4
27.4
75
5
218.2
60.6
34
30.1
67.1
5.8
FIJ125-100-200
60
16.7
15.25
1450
3.89
64
4.5
100
27.8
12.5
4.66
73
5
120
33.3
10.25
5.08
66
5.8
FIJ125-100-200A
54.7
15.2
12.6
1450
3.08
61
4.5
91
25.28
10.3
3.6
71
5
109.4
30.4
8.5
4.02
63
5.8
FIJ125-100-250
120
33.3
90
2900
47.4
62
3.7
200
55.6
80
58.1
75
4.5
240
66.7
73
64.5
74
5.5
FIJ125-100-250A
112
31.1
78
2900
40.3
59
3.7
186.5
51.8
69.5
48.35
73
4.5
224
62.2
63.5
54.5
71
5.5
FIJ125-100-250B
105.5
29.3
69
2900
34.2
58
3.7
175.5
48.75
61.5
41.4
71
4.5
211
58.6
56
46
69.9
5.5
FIJ125-100-250
60
16.7
22.5
1450
6.23
59
3.7
100
27.8
20
7.56
72
4.5
120
33.3
18.25
8.4
71
5.5
FIJ125-100-250A
56
15.56
19.5
1450
5.31
56
3.7
93
25.83
17.4
6.29
70
4.5
112
31.1
15.9
7.13
68
5.5
FIJ125-100-315
120
33.3
132.5
2900
65.3
52.6
4
200
55.6
125
94.6
72
4.5
240
66.7
120
103
75
5
FIJ125-100-315A
60
16.7
33.5
1450
10.3
53
4
100
27.8
32
13.5
65
4.5
120
33.3
30.5
15.1
66
5
FIJ125-100-400
60
16.7
52
1450
17.7
48
3.5
100
27.8
50
24.8
55
3.5
120
33.3
48.5
25.8
62
4
FIJ125-100-400A
54.6
15.17
46
1450
13
44
3.5
91
25.28
41
19
51
3.5
109.2
30.34
36.6
19.6
58
4
FIJ125-125-250
120
33.3
24.8
1450
12.3
66
2.5
200
55.6
20
14.1
77
2.8
240
66.7
15
14.4
68
3.5
FIJ125-125-250A
109.1
30.3
20.5
1450
9.7
62.8
2.5
182
50.56
16.5
10.9
75
2.8
218.2
60.6
12.4
11.3
65.2
3.5
FIJ125-125-315
120
33.3
36.3
1450
18.8
63
2.5
200
55.6
32
23.2
75
2.8
240
66.7
28.5
25.9
72
3.8
FIJ125-125-315A
109.1
30.3
30
1450
14.85
60
2.5
182
50.56
25.5
17.32
73
2.8
218.2
60.6
23.5
20.23
69
3.8
FIJ125-125-400
120
33.3
57.5
1450
30.8
61
2
200
55.6
50
38.9
70
2.5
240
66.7
44
45.6
63
3

Model
Capacity Q
Head
H(m)
Speed
(r/min)
Power

Efficiency
η(%)
NPSH
r (m)
FIJ125-125-400A
109.1
30.3
47.5
1450
24.3
Select according
to
viscosity
and
granite of liquid
58
2
182
50.56
41
29.9
68
2.5
218.2
60.6
36.5
36.1
60
3
FIJ200-150-250
240
66.7
23
1450
23.3
2.5
400
111.1
20
29.4
74
2.8
460
127.8
18
30.6
3
FIJ200-150-315
240
66.7
35.6
1450
34.7
67
3
400
111.1
32
44.1
79
3.5
460
127.8
29.4
47.8
77
4
FIJ200-150-315A
218.2
60.6
29.4
1450
27.3
64
3
363
100.8
25.5
32.7
77
3.5
418
116.1
24.3
37.4
74
4
FIJ200-150-400
240
66.7
55.8
1450
54.4
67
3
400
111.1
50
69.8
78
3.5
460
127.8
47
78.5
75
4
FIJ200-150-400A
218.2
60.6
46
1450
42.7
64
3
363
100.8
41
53.3
76
3.5
418
116.1
38.8
61.3
72
4
FIJ250-200-250A
600
12
1450
FIJ250-200-250B
540
11
1450
FIJ250-200-315A
650
24
1450
FIJ250-200-315B
600
20
1450
FIJ250-200-315C
550
16
1450
FIJ250-200-400A
650
52
1450
FIJ250-200-400B
550
45
1450
FIJ250-200-400C
500
40
1450
FIJ250-200-500A
700
75
1450
FIJ250-200-500B
650
65
1450
FIJ250-200-500C
550
55
1450
FIJ300-250-315A
950
22
1450
FIJ300-250-315B
900
20
1450
FIJ300-250-315C
800
16
1450
FIJ300-250-400A
1000
44
1450
FIJ300-250-400B
900
38
1450
FIJ300-250-400C
850
30
1450
FIJ300-250-500A
1200
80
1450
FIJ300-250-500B
1100
70
1450
FIJ300-250-500C
1000
55
1450

Model
impeller type
n=2900r/min
speed

M3/h
Capacity
H
m
Head
relative density<1.0
relative density<1.35
relative density<1.86
motor power or model
Kw
Kw
Kw
FIJ32-20-125
3.2
20
1.1
YB802-2/1.1
1.5
YB802-2/1.1
1.5
YB90S-2/1.5
FIJ32-20-160
3.2
32
1.5
YB90S-2/1.5
3
YB90L-2/2.2
3
YB100L-2/3.0
FIJ32-20-200
3.2
50
3
YB100L-2/3.0
5.5
YB112M-2/4.0
5.5
YB132S1-2/5.5
FIJ32-20-250
3.2
80
5.5
YB132S1-2/5.5
11
YB132S2-2/7.5
11
YB160M1-2/11
FIJ40-25-160
6.3
20
1.5
YB90S-2/1.5
3
YB90L-2/2.2
3
YB100L-2/3.0
FIJ40-25-160
6.3
32
2.2
YB90L-2/2.2
4
YB100L-2/3.0
4
YB112M-2/4.0
FIJ40-25-200
6.3
50
4
YB112M-2/4.0
7.5
YB132S1-2/5.5
7.5
YB132S2-2/7.5
FIJ40-25-250
6.3
80
7.5
YB132S2-2/7.5
15
YB160M1-2/11
15
YB160M2-2/15
FIJ50-32-125
12.5
20
1.5
YB90S-2/1.5
3
YB90L-2/2.2
3
YB100L-2/3.0
FIJ50-32-125A
11.3
16.4
FIJ50-32-160
12.5
32
3
YB100L-2/3.0
5.5
YB112M-2/4.0
5.5
YB132S1-2/5.5
FIJ50-32-160A
11.3
26.4
2.2
YB90L-2/2.2
4
YB100L-2/4.0
4
YB112M-2/4.0
FIJ50-32-200
12.5
50
5.5
YB132S1-2/5.5
11
YB132S2-2/7.5
11
YB160M1-2/11
FIJ50-32-200A
11.3
41
4
YB112M-2/4.0
7.5
YB132S1-2/5.5
7.5
YB132S2-2/7.5
FIJ50-32-250
12.5
80
11
YB160M1-2/11
18.5
YS160M2-2/15
18.5
YB160L-2/18.5
FIJ50-32-250A
11.7
70
7.5
YB132S2-2/7.5
15
YB160M1-2/11
15
YB160M2-2/15
FIJ50-32-250B
11
62
FIJ65-50-125
25
20
3
YB100L-2/3.0
5.5
YB112M-2/4.0
5.5
YB132S1-2/5.5
FIJ65-50-125A
22.7
16.5
2.2
YB90L-2/2.2
4
YB100L-2/3.0
4
YB112M-2/4.0
FIJ65-50-160
25
32
5.5
YB132S1-2/5.5
7.5
YB132S1-2/5.5
7.5
YB132S2-2/7.5
FIJ65-50-160A
22.7
26.5
4
YB112M-2/4.0
5.5
YB112M-2/4.0
5.5
YB132S1-2/5.5
FIJ65-40-200
25
50
7.5
YB132S2-2/7.5
11
YB160M1-2/11
15
YS160M2-2/15
FIJ65-40-200A
22.7
41
5.5
YB132S1-2/5.5
7.5
YB132S2-2/7.5
11
YB160M1-2/11
FIJ65-40-250
25
80
15
YS160M2-2/15
18.5
YB160L-2/18.5
22
YB180M-2/22
FIJ65-40-250A
23.4
74.8
11
YB160M1-2/11
15
YS160M2-2/15
FIJ65-40-250B
22
61.8
18.5
YB160L-2/18.5
FIJ65-40-315
25
125
30
YB200L1-2/30
30
YB200L1-2/30
45
YB225M-2/45
FIJ65-40-315A
23.4
109.5
22
YB180M-2/22
30
37
YB200L2-2/37
FIJ65-40-315B
22
96.5
18.5
YB160L-2/18.5
22
YB180M-2/22
30
YB200L1-2/30
FIJ80-65-125
50
20
4
YB112M-2/4.0
5.5
YB132S1-2/5.5
7.5
YB132S2-2/7.5
FIJ80-65-125A
45.3
16.5
FIJ80-65-160
50
32
7.5
YB132S2-2/7.5
11
YB160M1-2/11
15
YS160M2-2/15
FIJ80-65-160A
45.4
26.4
5.5
YB132S1-2/5.5
7.5
YB132S1-2/5.5
11
YB160M1-2/11
FIJ80-50-200
50
50
11
YB160M1-2/11
15
YS160M2-2/15
22
YB180M-2/22
FIJ80-50-200A
45.3
41
18.5
YB160L-2/18.5
FIJ80-50-250
50
80
22
YB180M-2/22
30
YB200L1-2/30
45
YB225M-2/45
FIJ80-50-250A
46.9
70.5
18.5
YB160L-2/18.5
22
YB180M-2/22
30
YB200L1-2/30
FIJ80-50-250B
44
62.2
15
YB160M2-2/15
22
30
FIJ80-50-315
50
125
37
YB200L2-2/37
55
YB250M-2/55
75
YB280S-2/75
FIJ80-50-315A
46.9
110
30
YB200L1-2/30
45
YB225M-2/45
55
YB250M-2/55
FIJ80-50-315B
44
9.7
30
37
YB200L2-2/37
45
YB225M-2/45
FIJ100-80-125
100
20
11
YB160M1-2/11
11
YB160M1-2/11
15
YB160M2-2/15
FIJ100-80-125A
91.8
16.8
7.5
YB132S2-2/7.5
11
YB160M1-2/11
FIJ100-80-160
100
32
15
YB160M2-2/15
18.5
YB160L-2/18.5
22
YB180M-2/22
FIJ100-80-160A
91
26.5
11
YB160M1-2/11
15
YB160M2-2/15
18.5
YB160L-2/18.5
FIJ100-65-200
100
50
22
YB180M-2/22
30
YB200L1-2/30
37
YB200L2-2/37
FIJ100-65-200A
91
41.5
18.5
YB160L-2/18.5
22
YB180M-2/22
30
YB200L1-2/30

Model
n=1450r/min
speed

M3/h
Capacity
H
m
Head
relative density<1.0
relative density<1.35
relative density<1.86
Kw
Kw
Kw
FIJ32-20-125
FIJ32-20-160
FIJ32-20-200
FIJ32-20-250
FIJ40-25-160
FIJ40-25-160
FIJ40-25-200
FIJ40-25-250
FIJ50-32-125
6.3
5
0.55
YB801-4/0.55
0.55
YB801-4/0.55
0.55
YB801-4/0.55
FIJ50-32-125A
5.7
4.1
FIJ50-32-160
6.3
8
0.75
YB802-4/0.75
FIJ50-32-160A
5.7
6.6
FIJ50-32-200
6.3
12.5
0.75
YB802-4/0.75
1.1
YB90S-4/1.1
1.5
YB90L-4/1.5
FIJ50-32-200A
5.7
10.3
0.75
YB802-4/0.75
1.1
YB90S-4/1.1
FIJ50-32-250
6.3
20
1.5
YB90L-4/1.5
2.2
YB100L-4/2.2
3
YB100L2-4/3.0
FIJ50-32-250A
5.9
17.5
2.2
YB100L1-4/2.2
FIJ50-32-250B
FIJ65-50-125
12.5
8
0.55
YB801-4/0.55
0.55
YB801-4/0.55
1.1
YB90S-4/1.1
FIJ65-50-125A
11.3
4.1
0.55
0.55
YB801-4/0.55
FIJ65-50-160
12.5
8
0.75
YB802-4/0.75
1.1
YB90S-4/1.1
FIJ65-50-160A
11.3
6.6
0.55
0.75
1.1
FIJ65-40-200
12.5
12.5
1.1
YB90S-4/1.1
1.5
YB90L-4/1.5
2.2
YB100L1-4/2.2
FIJ65-40-200A
11.3
10.3
0.75
YB802-4/0.75
1.1
YB90S-4/1.1
1.5
YB90L-4/1.5
FIJ65-40-250
12.5
20
2.2
YB100L1-4/2.2
3
YB100L2-4/3.0
4
YB112M-4/4.0
FIJ65-40-250A
11.7
17.5
1.5
YB90L-4/1.5
2.2
YB100L1-4/2.2
3
YB100L2-4/3.0
FIJ65-40-250B
4
YB112M-4/4.0
5.5
YB132S-4/5.5
7.5
YB132M-4/7.5
FIJ65-40-315
12.5
32
FIJ65-40-315A
11.7
28
3
YB100L2-4/3.0
4
YB112M-4/4.0
5.5
YB132S-4/5.5
FIJ65-40-315B
FIJ80-65-125
25
5
0.75
YB802-4/0.75
0.75
YB802-4/0.75
1.1
YB90S-4/1.1
FIJ80-65-125A
22.6
4.1
0.55
YB801-4/0.55
0.55
YB801-4/0.55
0.75
YB802-4/0.75
FIJ80-65-160
25
8
1.1
YB90S-4/1.1
1.5
YB90L-4/1.5
2.2
YB100L1-4/2.2
FIJ80-65-160A
22.7
6.6
0.75
YB802-4/0.75
1.1
YB90S-4/1.1
1.5
YB90L-4/1.5
FIJ80-50-200
25
12.5
1.5
YB90L-4/1.5
2.2
YB100L1-4/2.2
3
YB100L2-4/3.0
FIJ80-50-200A
22.7
10.3
2.2
YB100L1-4/2.2
FIJ80-50-250
25
20
3
4
5.5
FIJ80-50-250A
23.4
17.6
YB100L2-4/3.0
4
YB112M-4/4.0
5.5
YB132S-4/5.5
FIJ80-50-250B
5.5
YB132S-4/5.5
7.5
YB132M-4/7.5
11
YB160M-4/11
FIJ80-50-315
25
32
5.5
YB132S-4/5.5
7.5
YB132M-4/7.5
11
YB160M-4/11
FIJ80-50-315A
23.5
28.3
5.5
FIJ80-50-315B
FIJ100-80-125
2.2
YB100L1-4/2.2
2.2
YB100L1-4/2.2
3
YB100L2-4/3.0
FIJ100-80-125A
FIJ100-80-160
50
8
FIJ100-80-160A
45.5
6.6
1.5
YB90L-4/1.5
FIJ100-65-200
50
12.5
3
YB100L2-4/3.0
4
YB112M-4/4.0
5.5
YB132S-4/5.5
FIJ100-65-200A
45.5
10.3
2.2
YB100L1-4/2.2
3
YB100L2-4/3.0
4
YB112M-4/4.0
FIJ100-65-250
50
20
5.5
YB132S-4/5.5
7.5
YB132M-4/7.5
1.1
YB160M-4/11
FIJ100-65-250A
45.5
17.4
4
YB112M-4/4.0
5.5
YB132S-4/5.5
7.5
YB132M-4/7.5
Model
impeller type
n=2900r/min speed

M3/h
Capacity
H
m
Head
relative density<1.0
relative density<1.35
relative density<1.86
motor power or model
Kw
-
Kw
-
Kw
-
FIJ100-65-250
-
100
80
37
YB200L2-2/37
45
YB225M-2/45
75
YB280S-2/75
FIJ100-65-250A
-
93.5
70
30
YB200L2-2/30
37
YB200L2-2/37
55
YB250M-2/55
FIJ100-65-250B
-
87.8
61.7
45
YB225M-2/45
FIJ100-65-315
-
100
125
75
YB280S-2/75
75
YB280S-2/75
110
YB135S-2/110
FIJ100-65-315A
-
93.5
109
55
YB250M-2/55
-
-
-
FIJ100-65-315B
-
88
97
45
YB225M-2/55
55
YB250M-2/55
75
YB280S-2/75
FIJ125-80-160
-
160
32
22
YB180M-2/22
30
YB200L1-2/30
37
YB200L2-2/37
FIJ125-80-200
-
160
50
37
YB200L2-2/37
45
YB225M-2/45
55
YB250M-2/55
FIJ125-80-250
-
160
80
55
YB250M-2/55
75
YB280S-2/75
90
YB280M-2/90
FIJ125-100-200
-
200
50
45
YB225M-2/45
55
YB250M-2/55
75
YB280S-2/75
FIJ125-100-200A
-
182
41.4
30
YB200L1-2/30
37
YB200L2-2/37
55
YB250M-2/55
FIJ125-100-250
-
200
80
75
YB280S-2/75
90
YB280M-2/90
110
-
FIJ125-100-250A
-
186.5
69.5
55
YB250M-2/55
75
YB280S-2/75
90
YB280M-2/90
FIJ125-100-250B
-
175.5
61.5
45
YB225M-2/45
FIJ125-100-315
-
200
125
110
YB315S-2/110
132
YB315M1-2/132
-
-

Model
impeller type
n=2900r/min speed
M3/h Capacity
H
m
Head
relative density<1.0
relative density<1.35
relative density<1.86
motor power or model
Kw
Kw
Kw
FIJ100-65-315
50
32
7.5
YB132M-4/7.5
11
YB160M-4/11
15
YB160L-4/15
FIJ100-65-315A
46.5
28
FIJ100-65-315B
5.5
YB132S-4/5.5
7.5
YB132M-4/7.5
11
YB160M-4/11
FIJ125-100-200
100
12.5
5.5
YB132S-4/5.5
7.5
YB132M-4/7.5
11
YB160M-4/11
FIJ125-100-200A
91
10.3
4
YB112M-4/4.0
5.5
YB132S-4/5.5
7.5
YB132M-4/7.5
FIJ125-100-250
100
20
11
YB160M-4/11
11
YB160M-4/11
15
YB160L-4/15
FIJ125-100-250A
93
17.4
7.5
YB132M-4/7.5
11
YB160M-4/11
15
YB160L-4/15
FIJ125-100-250B
18.5
YB180L-4/18.5
22
YB180L-4/22
30
YB200L-4/30
FIJ125-100-315
100
32
15
YB160L-4/15
22
YB180L-4/22
30
YB200L4/30
FIJ125-100-400
100
50
32
YB200L-4/30
37
YB225S-4/37
55
YB250M-4/55
FIJ150-125-250
200
20
18.5
YB180L-4/18.5
22
YB180L-4/22
30
YB200L-4/30
FIJ150-125-250A
182
16.5
15
YB160L-4/15
15
YB160L-4/15
22
YB180L-4/22
FIJ150-125-315
200
32
30
YB200L-4/30
37
YB225S-4/37
45
YB225M-4/45
FIJ150-125-315A
182
25.5
22
YB180L-4/22
30
YB220L-4/30
37
YB225S-4/37
FIJ150-125-400
200
50
45
YB225M-4/45
55
YB250M-4/55
75
YB280S-4/75
FIJ150-125-400A
182
41
37
YB225S-4/37
45
YB225M-4/45
FIJ200-150-250
400
20
37
YB225S-4/37
45
YB225M-4/45
75
YB280M-4/90
FIJ200-150-250A
360
16.2
30
YB200L-4/30
30
YB200L-4/30
45
YB225M-4/45
FIJ200-150-315
400
32
45
YB225M-4/45
75
YB280S-4/75
90
YB280S-4/75
FIJ200-150-315A
363
25.5
37
YB225S-4/37
45
YB225M-4/45
75
YB280S-4/75
FIJ200-150-400
400
50
75
YB280S-4/75
110
YB315S-4/110
132
YB315M1-4/132
FIJ200-150-400A
363
41
55
YB225M-4/45
75
YB280S-4/75
110
YB315S-4/110