H42H/W Vertical Lift Check Valve
Vertical lift check valve has the following two characteristics:
1. Vertical check valve has flange and wafer types, with a simple structure, few parts, light weight and other features. Flange vertical check valve is mainly used in various working conditions of preventing the media backflow.
2. When the flange vertical check valve used as vertical installation, it will not set the spring. Using the disc weight and backflow pressure to achieve the check effect.
Specifications
Type
Nominal Pressure PN (MPa)
Test Pressure (MPa)
Temperature (°C)
Fliuds
Shell
Sealing
H42W-16C
1.6
2.4
1.76
≤425
Water, Oil
H42W-16P
≤200
Weak Corrosive Acid
H42W-25P
2.5
3.75
2.75
H42W-25R
Corrosive Acid
H42W-40P
4.0
6.0
4.4
Weak Corrosive Acid
H42W-40R
Corrosive Acid
H42Y-40
Water, Oil
Materials
Part Name
Body, Disc
Pilot Valve
Sealing Face
H42W-16C
Carbon steel
Carbon Steel
Carbon Steel
H42W-16P
Cr-Ni-Ti Stainless Steel
Cr-Ni-Ti Stainless Steel
Cr-Ni-Ti Stainless Steel
H42W-25P
H42W-40P
H42W-25R
Cr-Ni-Mo-Ti Stainless Steel
Cr-Ni-Mo-Ti Stainless Steel
Cr-Ni-Mo-Ti Stainless Steel
H42W-40R
H42Y-40
Carbon Steel
Carbon Steel
Bead Welding Hard Alloy
Dimensions & Weights - 1.6 MPa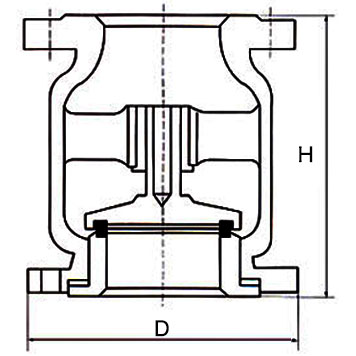 | | | | | | | | | | | | | | |
| --- | --- | --- | --- | --- | --- | --- | --- | --- | --- | --- | --- | --- | --- |
| Sizes | DN | 15 | 20 | 25 | 32 | 40 | 50 | 65 | 80 | 100 | 125 | 150 | 200 |
| H | mm | 105 | 105 | 105 | 150 | 160 | 170 | 180 | 200 | 210 | 275 | 300 | 380 |
| D | mm | 95 | 105 | 115 | 135 | 145 | 160 | 180 | 195 | 215 | 245 | 280 | 335 |
| Weights | Kg | - | - | - | - | - | 7.9 | 11 | 12 | 19.5 | 36 | 47 | 65 |
Dimensions & Weights - 2.5 MPa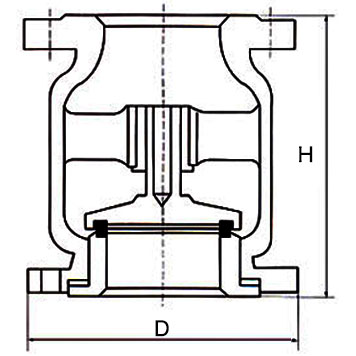 | | | | | | | | | | | | | |
| --- | --- | --- | --- | --- | --- | --- | --- | --- | --- | --- | --- | --- |
| Sizes | DN | 20 | 25 | 32 | 40 | 50 | 65 | 80 | 100 | 125 | 150 | 200 |
| H | mm | 105 | 105 | 150 | 160 | 170 | 180 | 200 | 210 | 275 | 300 | 380 |
| D | mm | 105 | 115 | 135 | 145 | 160 | 180 | 195 | 230 | 275 | 300 | 360 |
| Weights | Kg | - | - | - | - | 7.9 | 11 | 12 | 20 | 38 | 48 | 70 |
Dimensions & Weights - 4.0 MPa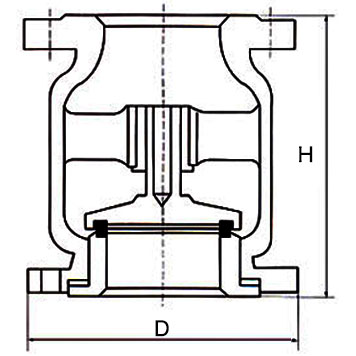 | | | | | | | | | |
| --- | --- | --- | --- | --- | --- | --- | --- | --- |
| Sizes | DN | 50 | 65 | 80 | 100 | 125 | 150 | 200 |
| H | mm | 170 | 180 | 200 | 210 | 275 | 300 | 380 |
| D | mm | 160 | 180 | 195 | 230 | 270 | 300 | 375 |
| Weights | Kg | 7.9 | 11 | 12 | 20 | 38 | 48 | 72 |