200X Pressure Reducing Valve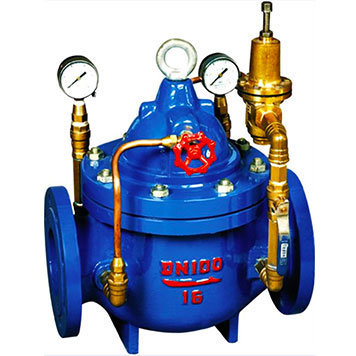 Overview
The 200X, Pressure Reducing Control Valve consists of Basic valve pressure reducing pilot. It automatically reduces a higher inlet pressure regardless of changing flow rate or varying inlet pressure. The pilot valve responds to slight fluctuation in the downstream and thus governs the control pressure.
200X Pressure Reducing Control Valves utilizes the self-energy of the medium to adjust the pipeline pressure and control the outlet pressure of the main valve through adjusting the pressure reducing of pilot valve.
The outlet pressure does not change along with the variation of the inlet one and the water quantity of the outlet. It features by reliable performance, easy installation, maintenance, debugging and check, long duration.
DN 450 Diaphragm type valve
DN 500 piston type valve
Materials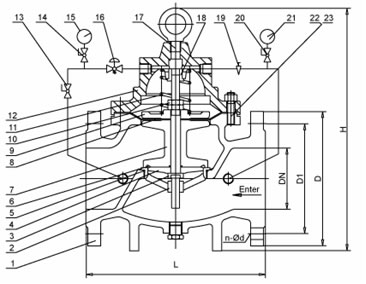 | | | |
| --- | --- | --- |
| Serial No. | Part | Material |
| 1 | Body | Cast Iron (GG25, HT200) / Ductile Iron (GG40, QT) |
| 2 | Seat | 410 S.S. / SS 304 / SS 316 |
| 3 | Stem | 410 S.S. / SS 304 / SS 316 |
| 4 | O-ring washer | Cast Iron |
| 5 | O-ring | NBR |
| 6 | O-ring | NBR |
| 7 | Disc | Cast Iron (GG25, HT200) / Ductile Iron (GG40, QT) |
| 8 | Diaphragm | Rubber |
| 9 | Diaphragm Washer | Cast Iron |
| 10 | Screw | Bronze |
| 11 | Spring | Spring steel |
| 12 | Cover | Cast Iron (GG25, HT200) / Ductile Iron (GG40, QT) |
| 13 | Ball Valve | Bronze |
| 14 | Ball valve | Bronze |
| 15 | Pressure show | |
| 16 | Pilot valve | Bronze |
| 17 | Hang ring | Steel |
| 18 | Pilot socket | Bronze |
| 19 | Needle valve | Bronze |
| 20 | Ball valve | Bronze |
| 21 | Pressure show | |
| 22 | Stud | Steel |
| 23 | Screw | Steel |
Dimensions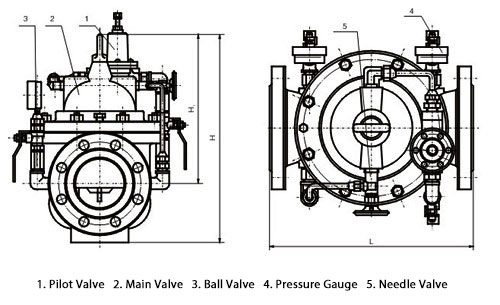 DNmm
20
25
32
40
50
65
80
100
125
150
200
250
300
350
400
450
500
600
700
800
L
180
180
180
203
203
235
285
360
400
455
585
650
800
860
915
980
1075
1230
1300
1450
PN10
D
105
115
135
145
160
180
195
215
245
280
335
390
440
500
565
615
670
780
895
1010
D1
75
85
100
110
125
145
160
180
210
240
295
350
400
460
515
565
620
725
840
950
PN16
D
105
115
135
145
160
180
195
215
245
280
335
405
460
520
580
640
705
840
910
1020
D1
75
85
100
110
125
145
160
180
210
240
295
355
410
470
525
585
650
770
840
950
PN25
D
105
110
135
145
160
180
195
230
270
300
360
425
485
550
610
660
730
840
955
1070
D1
75
85
100
110
125
145
160
190
220
250
310
370
430
490
550
600
660
770
875
990
H
342
342
342
395
395
405
430
510
560
585
675
730
760
840
910
1030
1135
1270
1460
1640
H1
247
247
247
278
278
298
313
350
365
420
450
470
490
526
570
610
665
725
865
975
Installation