YWF/YWFA Series Clear Submered Pump
Summary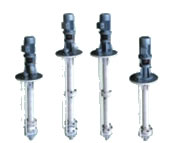 YWF/YWFA Series Clear Submered Pump
Digesting and absorbing the technologies of introduced equipment, model YWF series engineering plastic clear liquid submerged pump and model YWFA series engineering plastic slurry submerged pump are elaborately designed. All flow contact parts are made of polyethylene engineering plastics with super high molecular weight. They are featured with good corrosive resistance and excellent shock resistance. In conveying corrosive liquids such as hydrofluoric acid, hydro-chloride, diluted sulfuric acid, concentrated alkali liquid, mixed acid, wastewater, etc., the pump has shown good performance.
Model YWF-series submerged pump is suitable for conveying clear corrosive media without solid granules, while model YWFA series submerged pump is suitable for conveying corrosive slurry containing big amount of granules (the mass concentration of the slurry is less than 20%, and the diameter of solid granule is less than 0.5mm.). The applicable temperature of the submerged pump is QO°C. The applicable temperature can be up to 100t, if the blade wheel and pump body are made of high temperature resistant materials. It can replace expensive stainless steel and fluoro-plastics submerged pumps underthe same media and working conditions.
The submerged pump in this series is featured with beautiful appearance, light weight, small vibration, low noise, small floor area, etc.It can run smoothly,has reliable performance and convenient repair.
II YWF Series Table Of Property Parameters
Model
mm Inlet*Outlet
Speed r/min
Capacity m2/h
Head m
Motor
maximum specific
weight of input medium
mm dcpth below the
liquld surface
KW Power
Model
25-12
25*20
2900
*5
12
0.75
Y801-2
<1.2
*500
750
*1000
1250
*1500
1750
*2000
2250
*2500
32-15
32*25
2900
5
22
3
Y100L-2
<1.2
*10
15
3.O
Y100L-2
50-30
50*40
2900
10
32
5.5
Y132S1-2
<1.2
*20
30
5.5
Y132S2-2
30
25
7.5
Y132S2-2
1450
5
8
1.5
Y90S-4
<1.2
10
7.5
1.5
Y90S-4
15
6.5
2.2
Y100L-4
65-50
65*65
2900
20
55
15
Y160M2-2
<1.2
*30
50
15
Y160M2-2
40
45
18.5
Y160L-2
50
42
18.5
Y160L-2
1450
10
13.7
2.2
Y100L1-4
<1.2
15
12.5
2.2
Y100L1-4
20
11.2
3
Y100L2-4
25
10.5
3
Y100L2-4
80-35
80*65
2900
30
76
11
Y160M1-2
<1.2
*40
35
11
Y160M1-2
60
30
15
Y160M2-2
70
20
15
Y160M2-2
1450
15
9
1.5
Y90L-4
<1.2
20
9
1.5
Y90L-4
30
7.5
2.2
Y100L1-4
35
5
2.2
Y100L1-4
100-38
100*80
2900
40
40
18.5
Y160L-2
<1.2
*60
38
18.5
Y160L-2
80
34
18.5
Y160L-2
100
30
22
Y180M-2
1450
20
10
3
Y100L2-4
<1.2
30
9.5
3
Y100L2-4
40
8.5
3
Y100L2-4
50
7.5
4
Y112M-4
100-40
100*80
5900
60
43.5
30
Y200L1-2
<1.2
80
42
30
Y200L1-2
*100
40
30
Y200L1-2
120
38
30
Y200L1-2
140
36
37
Y200L2-2
1450
30
10.8
4
Y112M-4
<1.2
40
10.5
4
Y112M-4
50
10
4
Y112M-4
60
9.5
5.5
Y132S-4
70
9
5.5Y132S-4
Model
mm Inlet*Outlet
Speed r/min
Capacity m2/h
Head m
Motor
maximum specific
weight of input medium
mm dcpth below the
loquld surface
KW Power
Model
25-10
25*20
2900
*5
12
0.75
Y801-2
<1.2
*500
750
*1000
1250
*1500
1750
*2000
2250
*2500
32-15
32*25
2900
5
22
3
Y100L-2
<1.2
*10
15
3.O
Y100L-2
50-28
50*40
2900
10
32
5.5
Y132S1-2
<1.2
*20
30
5.5
Y132S2-2
30
25
7.5
Y132S2-2
1450
5
8
1.5
Y90S-4
<1.2
10
7.5
1.5
Y90S-4
15
6.5
2.2
Y100L-4
65-50
65*65
2900
20
55
15
Y160M2-2
<1.2
*30
50
15
Y160M2-2
40
45
18.5
Y160L-2
50
42
18.5
Y160L-2
1450
10
13.7
2.2
Y100L1-4
<1.2
15
12.5
2.2
Y100L1-4
20
11.2
3
Y100L2-4
25
10.5
3
Y100L2-4
80-32
80*65
2900
30
36
11
Y160M1-2
<1.2
*40
35
11
Y160M1-2
60
30
15
Y160M2-2
70
20
15
Y160M2-2
1450
15
9
1.5
Y90L-4
<1.2
20
9
1.5
Y90L-4
30
7.5
2.2
Y100L1-4
35
5
2.2
Y100L1-4
100-35
100*80
2900
40
40
18.5
Y160L-2
<1.2
*60
38
18.5
Y160L-2
80
34
18.5
Y160L-2
100
30
22
Y180M-2
1450
20
10
3
Y100L2-4
<1.2
30
9.5
3
Y100L2-4
40
8.5
3
Y100L2-4
50
7.5
4
Y112M-4
100-38
100*80
5900
60
43.5
30
Y200L1-2
<1.2
80
42
30
Y200L1-2
*100
40
30
Y200L1-2
120
38
30
Y200L1-2
140
36
37
Y200L2-2
1450
30
10.8
4
Y112M-4
<1.2
40
10.5
4
Y112M-4
50
10
4
Y112M-4
60
9.5
5.5
Y132S-4
70
9
5.5
Y132S-4