High-Temperature Vitriol Pump
I Summary For Corrosive Vertical Submerged Pump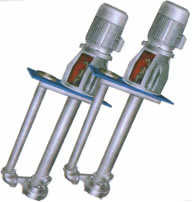 High-Temperature Vitriol Pump
LSB series high-temperature vitriol pump is Select pump excellent water power model, whose performance stable, high efficiency, saving power.
Use national advanced corrosive materials, the parts liquids passed are made up of XY-21 and XY-31 alloys. The rest are made up of special corrosive casting iron, which made pump life lengthen.
Widely absorbed the advantages of national and international structure design of vitriol pump, lengthen the length of suction pipe, which advances the rigidity of multi cell pump, pump operates level and reliable.
Remy yielding LSB series high-temperature vitriol pump is high standard and high universal, changeable, convenience assemble, disassemble and repair.

II Performance Parameter Range For High-Temperature Vitriol Pump
Capacity: Q=10~800M3/h
Head: H=15-50m
Temperature:
t<125℃ (98% H2SO4)
t<80℃ (93% H2SO4)
For t<125℃, density is lower than 98%, IMRC-7special alloy can be used.
III Performance Parameter Chart For High-Temperature Vitriol Pump
Model
Q
(M3/h)
H
(m)
N
(r/min)
η
(%)
Power(kw)
Weight
(kg)
Pa
Per
25LSB-40
25
40
2950
60
4.5
11
570
25LSB-40A
23.7
36
2950
59
3.9
11
570
25LSB-40B
22.5
32
2950
58
3.4
11
570
25LSB-40C
21
29
2950
57
2.9
7.5
570
55LSB-40
55
40
2950
66
9.1
22
630
55LSB-40A
52
36
2950
65
7.8
18.5
630
55LSB-40B
49.5
32
2950
64
6.7
15
630
55LSB-40C
46.7
29
2950
63
5.9
15
630
100LSB-40
100
40
2950
68
16
37
740
100LSB-40A
95
36
2950
67
13.9
30
740
100LSB-40B
90
32
2950
66
11.9
30
740
100LSB-40C
85
29
2950
65
10.3
30
740
100LSB-50
100
50
2950
74
18.4
45
735
100LSB-50A
95.3
45.5
2950
73
16.2
37
735
100LSB-50B
90.7
41
2950
72
14
37
735
20LSB-30
20
30
1450
43
3.8
11
730
20LSB-30A
19
27
1450
42
3.3
11
730
20LSB-30B
18
24
1450
41
2.9
7.5
730
20LSB-30C
17
21.5
1450
40
2.5
7.5
730
40LSB-30
40
30
1450
53
6.2
15
980
40LSB-30A
38
27
1450
52
5.4
15
980
40LSB-30B
36
24
1450
51
4.6
11
980
40LSB-30C
34
21.5
1450
50
4.0
11
980
80LSB-30
80
30
1450
65
10
30
940
80LSB-30A
76
27
1450
64
8.7
22
940
80LSB-30B
72
24
1450
63
7.5
22
940
80LSB-30C
68
21.5
1450
62
6.4
18.5
940
200LSB-30
200
30
1450
78
20.9
55
1020
200LSB-30A
190
27
1450
77
18.1
45
1020
200LSB-30B
180
24
1450
76
15.5
37
1020
120LSB-26
120
26
1450
73
11.6
30
945
120LSB-26A
114
23.5
1450
72
10.1
22
945
120LSB-26B
108
21
1450
71
8.7
22
945
120LSB-26C
102
18
1450
70
7.1
18.5
945
200LSB-22
200
22
1450
75
16
37
1020
200LSB-22A
190
21
1450
74
14.7
37
1020
200LSB-22B
180
17.5
1450
73
11.8
30
1020
250LSB-38
250
38
1450
82
31.6
75
1020
250LSB-38A
238
34
1450
81
27.2
75
1020
280LSB-30
280
30
1450
79
29
75
1020
280LSB-30A
266
27
1450
78
25
55
1020
280LSB-30B
252
24
1450
77
21.4
55
1020
360LSB-30
360
30
1450
80
36.8
90
1590
360LSB-30A
342
27
1450
79
31.8
75
1590
360LSB-24
360
24
1450
78
30.2
75
1660
360LSB-24A
342
21.5
1450
77
26
75
1660
360LSB-24B
324
19
1450
76
22.1
55
1660
360LSB-24C
306
17
1450
75
18.9
55
1660
600LSB-30
600
30
1450
82
59.8
132
2665
600LSB-30A
570
27
1450
81
51.7
110
2665
600LSB-30B
540
24
1450
80
44.1
110
2665
600LSB-30C
510
21
1450
79
36.9
90
2665
780LSB-30
780
30
1450
75
85
200
3000
780LSB-30A
740
27
1450
74
73.5
185
3000
780LSB-30B
702
24.3
1450
73
63.6
160
3000
780LSB-30C
663
21.7
1450
72
54.4
132
3000