Model (UPZ)UHB-ZK Corrosion-and-abrasion-resistant Sand Slurry Pump
Summary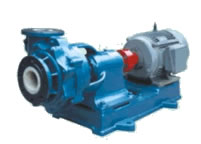 Model (UPZ)UHB-ZK Corrosion-and-abrasion-resistant Sand Slurry Pump
This pump series is a cantilever-type horizontal single-stage-single-suction centrifugal pump. Its flow contact parts are made of steel-lined polyethylene with ultra-high molecular weight (UHMWPE). The material is a new corrosion-and-abrasion- resistant engineering plastic for the use of pump in the world. Its unique features are good resistance to abrasion, good resistance to shock (specially for low temperature shock), resistance to creep deformation (resistance to crack resulted from ambient stress), and excellent resistance to corrosion.
The pump is of remarkable characteristics: multifunction, i.e. the pump is suitable for many working conditions. For example, it can be used in conveying acid and alkali clear liquids or slurry, varieties of corros-ive mine slurries of metallurgical industry, varieties of thin acids of sulfuric acid industry, varieties of waste water of environment protection industry, etc. Because of the resistances to corrosion and abrasion, it is widely used.
I. Brief Introduction To Main Technical Properties.
1.Model: UHB-ZK series
2.Characteristics: resistance to corrosion and abrasion, one pump for multiple uses, suitable for acid and alkali clear liquids or slurries.
3.Structure:
(1) the pump body is made of steel lined with polythene with ultra-high molecular weight polyethylene. Its lining thickness is 820mm.
(2) The blade wheel has two types: open -type and closed type. It can be optionally chosen according to conditions of media.
(3) Seal: K-type dynamic seal.
4.Applicable media: sulfuric acid with concentration of less than 80%, nitric acid with concentration of less than 50%, hydrochloric acid with various concentration, liquid alkali, etc. It is used not only for clear liquid, but also for slurry.
5.Main technical data: working temperature:-20,t;~ 80t; (for special requirements and improved materials, the temperature can be up to 105). Inlet diameter: d>32m m~0250mm Flow: 5-600 m'/h Lift: not more than 50m

Table Of Property Parameters
No.
Type
Capacity(m3/h)
Head(m)
Speed(r/min)
(kw)Power
InletOutletdiameter(mm*mm)
Weight(kg)
ShaftPower
motorPower
1
25UHB-ZK-3-13
3
13
2900
0.3
0.75
25*20
75
2
25UHB-ZK-5-12
5
12
2900
0.42
0.75
3
25UHB-ZK-7-10
7
10
2900
0.5
0.75
4
25UHB-ZK-3-18
3
18
2900
0.4
1.1
5
25UHB-ZK-5-15
5
15
2900
0.55
1.1
6
25UHB-ZK-8-12
8
12
2900
0.7
1.1
7
32UHB-ZK-5-20
5
20
2900
0,72
1.1
32*25
80
8
32UHB-ZK-8-18
8
18
2900
1.2
1.5
9
32UHB-ZK-12-15
12
15
2900
1.3
2.2
10
32UHB-ZK-5-25
5
25
2900
1.1
2.2
11
32UHB-ZK-10-20
10
20
2900
1.6
2.2
12
32UHB-ZK-5-5
5
5
1450
0.25
0.75
13
32UHB-ZK-15-15
15
15
2900
1.7
21
14
40UHB-ZK-10-30
10
30
2900
2.2
3
40*32
130
15
40UHB-ZK-15-25
15
25
2900
2.7
3
16
40UHB-ZK-7.5-6
7.5
6
1450
0.4
0.75
17
40UHB-ZK-18-20
18
20
2900
2.6
3
18
40UHB-ZK-10-18
10
18
2900
1,3
2.2
19
40UHB-ZK-15-15
15
15
2900
1.7
2.2
20
50UHB-ZK-15-32
15
32
2900
3.5
5.5
50*40
170
21
50UHB-ZK-20-30
20
30
2900
4.3
5.5
22
50UHB-ZK-10-7.5
10
7.5
1450
0.6
1.1
23
50UHB-ZK-25-28
25
28
2900
5
5.5
24
50UHB-ZK-10-35
10
35
2900
3.2
4
25
50UHB-ZK-12-40
12
40
2900
3.8
5.5
26
50UHB-ZK-15-43
15
43
2900
5.6
7.5
27
50UHB-ZK-20-20
20
20
2900
3
4
28
50UHB-ZK-25-18
25
18
2900
3.2
4
29
50UHB-ZK-30-15
30
15
2900
3.1
4
30
65UHB-ZK-30-25
30
25
2900
5.3
5.5
65*50
220
31
65UHB-ZK-35-20
35
20
2900
5.1
5.5
32
65UHB-ZK-40-15
40
15
2900
4.5
5.5
33
65UHB-ZK-30-32
30
32
2900
6.5
7.5
34
65UHB-ZK-15-8
15
8
1450
9.9
1.1
35
65UHB-ZK-35-25
35
25
2900
6.2
7.5
36
65UHB-ZK-40-20
40
20
2900
5.9
7.5
37
65UHB-ZK-10-45
10
45
2900
4.8
7.5
38
65UHB-ZK-5-11
5
11
1450
0.6
1.1
39
65UHB-ZK-10-40
10
40
2900
42
5.5
40
65UHB-ZK-20-50
20
50
2900
8.7
11
41
65UHB-ZK-10-12.5
10
12.5
1450
1.2
22
42
65UHB-ZK-30-50
30
50
2900
12
15
43
65UHB-ZK-15-12.5
15
12.5
1450
1.6
2.2
44
65UHB-ZK-30-40
30
40
2900
9.6
11
No.
Type
Capacity(m3/h)
Head(m)
Speed(r/min)
(kw)Power
InletOutletdiameter(mm*mm)
Weight(kg)
ShaftPower
motorPower
45
80UHB-ZK-40-20
40
20
2900
5.8
7.5
80*65
270
46
80UH8-ZK-45-18
45
18
2900
6.1
7.5
47
80UHB-ZK-50-15
50
15
2900
5.6
7.5
48
80UHB-ZK-35-45
35
45
2900
10.8
11
49
80UHB-ZK-17.5-11
17.5
11
1450
1.5
2.2
100*80
370
50
80UHB-ZK-40-35
40
35
2900
10.2
11
51
80UH8-ZK-45-32
45
32
2900
10.1
11
52
80UHB-ZK-50-30
50
30
2900
10.2
11
53
80UHB-ZK-60-30
60
30
2900
12.6
15
54
80UH8-ZK-45-50
45
50
2900
14.8
15
55
80UHB-ZK-22.5-12.5
22.5
12.5
1450
2.3
3
56
80UH8-ZK-55-40
55
40
2900
15
15
57
100UHB-ZK-50-58
50
58
2900
21
22
58
100UHB-ZK-50-50
50
50
2900
17.5
18.5
59
100UH8-ZK-60-50
60
50
2900
21.5
22
60
100UHB-ZK-60-40
60
40
2900
16.8
18.5
61
100UHB-ZK-60-30
60
30
2900
13.8
15
62
100UHB-ZK-70-45
70
45
2900
22.1
22
63
100UHB-ZK-80-35
80
35
2900
17.8
18.5
64
100UHB-ZK-100-27
100
27
2900
18.4
18.5
65
100UHB-ZK-80-15
80
15
2900
10.2
11
66
100UH8-ZK-100-20
100
20
2900
15
15
67
100UHB-ZK-80-50
80
50
2900
27
30
68
100UH8-ZK-100-45
100
45
2900
28
30
69
100UHB-ZK-50-11
50
11
1450
4.2
5.5
70
100UH8-ZK-120-40
120
40
2900
28.5
30
71
100UHB-ZK-145-28
145
28
2900
29.5
30
72
100UH8-ZK-80-30
80
30
2900
17.5
18.5
73
100UHB-ZK-100-25
100
25
2900
17.9
18.5
74
100UH8-ZK-120-20
120
20
2900
17.2
18.5
75
100UHB-ZK-140-15
140
15
2900
16.8
18.5
76
100UHB-ZK-100-20
100
20
2900
14.9
15
77
100UHB-ZK-120-15
120
15
2900
14.2
15
78
100UHB-ZK-140-10
140
10
2900
14.5
15
79
125UHB-ZK-100-40
100
40
2900
28.8
30
125*100
480
80
125UHB-ZK-120-35
120
35
2900
29.4
30
81
125UHB-ZK-140-25
140
25
2900
25
30
82
125UHB-ZK-120-32
120
32
2900
26.8
30
83
125UHB-ZK-140-28
140
28
2900
27.6
30
84
125UH8-ZK-160-24
160
24
2900
28.1
30
85
125UHB-ZK-120-20
120
20
2900
17.2
18.5
86
125UHB-ZK-140-18
140
18
2900
21
22
87
125UHB-ZK-150-15
150
15
2900
21.5
22
88
125UHB-ZK-80-15
80
15
1450
10.2
11
No.
Type
Capacity(m3/h)
Head(m)
Speed(r/min)
(kw)Power
InletOutletdiameter(mm*mm)
Weight(kg)
ShaftPower
motorPower
89
150UHB-ZK-120-25
120
25
1450
22
30
150*125
1000
90
150UHB-ZK-80-11
80
11
980
8.9
11
91
150UHB-ZK-150-20
150
20
1450
24.5
30
92
150UHB-ZK-180-30
180
30
1450
35.5
37
93
150UHB-ZK-210-26
210
26
1450
36.4
37
94
150UHB-ZK-148-11
148
11
980
15
15
95
150UHB-ZK-240-24
240
24
1450
37
37
96
150UHB-ZK-270-20
270
20
1450
36
37
97
150UHB-ZK-190-18
190
18
1450
22
22
98
150UHB-ZK-135-8
135
8
980
10.5
11
99
150UHB-ZK-260-16
260
16
1450
28
30
100
150UHB-ZK-280-14
280
14
1450
28.2
30
101
150UHB-ZK-120-40
120
40
1450
33.6
37
102
150UHB-ZK-150-40
150
40
1450
42
45
103
150UHB-ZK-101-18
101
18
980
12.8
15
104
150UHB-ZK-200-32
200
32
1450
44
45
105
150UHB-ZK-250-30
250
30
1450
44.5
45
106
150UHB-ZK-300-25
300
25
1450
45
45
200*150
1200
107
200UH8-ZK-320-32
320
32
1450
55
55
108
200UHB-ZK-210-14
210
14
980
18.4
18.5
109
200UHB-ZK-350-28
350
28
1450
55
55
110
200UHB-ZK-400-25
400
25
1450
70
75
111
200UHB-ZK-250-45
250
45
1450
74
75
112
200UHB-ZK-168-20
168
20
980
27
30
113
200UHB-ZK-300-38
300
38
1450
72
75
114
200UHB-ZK-350-34
350
34
1450
73.8
75
115
200UHB-ZK-320-24
320
24
1450
42
45
116
200UHB-ZK-215-10
215
10
980
15.6
18.5
117
200UHB-ZK-350-20
350
20
1450
43
45
118
200UHB-ZK-400-18
400
18
1450
44
45
119
200UHB-ZK-500-12
500
12
1450
45
45
120
250UHB-ZK-400-45
400
45
1450
112
132
250*200
1450
121
250UHB-ZK-270-20
270
20
980
35
37
122
250UHB-ZK-500-37
500
37
1450
118
132
123
250UHB-ZK-600-30
600
30
1450
120
132
124
250UHB-ZK-400-32
400
32
1450
85
90
125
250UHB-ZK-270-14
270
14
980
25
30
126
250UHB-ZK-500-26
500
26
1450
79
90
127
250UHB-ZK-600-20
600
20
1450
84
90