Single Screw Pump
I Summary For Screw Pump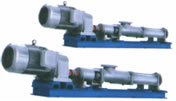 Single screw pump
G series single screw pump For pumping neutral or corrosive liquids, uncontaminated or abrasive liquids, liquids containing gases or which tend to froth, and liquids of high or low viscosity, including liquids containing fibrous and solid material.Remy G series single screw pump Principal fields of application Food industry, Texil mill, Paper-making, Petro-industry, Chemical industry, Ship building, Build industry, Nuclear industry, Metallurgical and mine etc.
II Operation For Single Screw Pump
The mono pump is a screw pump sealed on the inside gearing, belong to rotor displacement pump. The essential part consists of combination of a stator with two-start female thread and a rotor in planetary motion by the universal coupling, between the stator and the rotor, being in mesh continually, the medium handled is transmitted to the outlet port from the inlet port. The liquid transmitted to get not confused or disruptive, thus it is most suitable for lifting mediums containing solid matter, abrasive particles and viscous liquids.
III Performance Table For Single Screw Pump 1
Model
Pressure in the delivery branch 0.3MPa
Pressure in the delivery branch 0.6MPa
Speed
r/min
capacity
M3/h
Shaft power
kw
Motor
Speed
r/min
capacity
M3/h
Shaft power
kw
Motor
G25-1
720
2.45
0.47
Y132S-8(2.2KW)
720
2.2
0.69
Y132S-8(2.2KW)
570
1.89
0.39
YCJ71(0.75KW)
579
1.6
0.54
YCJ71(1.1KW)
506
1.63
0.35
513
1.4
0.35
445
1.45
0.31
452
1.14
0.45
388
1.18
0.28
393
0.9
0.39
334
1
0.25
339
0.7
0.34
284
0.76
0.22
288
0.53
0.31
G35-1
579
3.9
0.7
YCJ71(1.1KW)
579
3.25
1.06
YCJ71(1.5KW)
513
3.4
0.61
513
2.8
0.95
452
3
0.54
452
2.3
0.83
393
2.5
0.46
393
1.9
0.73
339
2
0.42
339
1.5
0.63
288
1.6
0.36
288
1.15
0.54
217
1.1
0.29
G40-1
579
7.9
1.06
YCJ71(1.5KW)
587
6.8
1.8
YCJ71(2.2KW)
513
6.9
0.93
520
5.7
1.61
452
5.9
0.82
458
4.8
1.43
393
5
0.74
399
4
1.21
339
4.2
0.63
344
3
1.05
288
3.3
0.53
292
2.2
0.9
240
2.65
0.47
244
1.6
0.75
186
1.7
0.36
YCJ132(1.1KW)
G50-1
587
15.7
2.42
YCJ71(3KW)
571
13.4
3.61
YCJ80(4KW)
520
13.8
1.95
504
11.5
3.2
458
12.1
1.64
442
9.5
2.79
399
10.2
1.45
383
7.5
2.4
344
8.8
1.16
327
6
2.025