SF-2B Integrative 3-Valve Manifolds
SF-2B integrative 3-Valve manifolds feature and application
SF-2B Integrative 3-Valve Manifolds consist of two gain pressure valves and balanced valve, it can be directly connected to EJA,1151series equal pressure transmitter , to switch on or switch off measuring point. The inlet is φ14 connecting tubing, and welded with lead in pressure tubes. The balanced valve should be aslant placed and it is convenient in operation.
SF-2B integrative 3-Valve manifolds diagram and connecting dimensions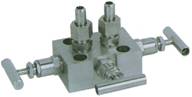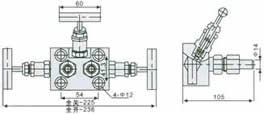 SF-2B integrative 3-Valve manifolds technic date and material
No.
PN
inlet
outlet
Applicable Temperature (℃)
Body
1
32MPa
F14
plate type installation
-20~450
20#
2
-70~240
321 S.S.