Diesel Engine Fire Pump
According to the market need of national building's fire pump and using features, XBC Diesel Engine Fire Pump is a new product self-researched and manufactured by our Company. This series of products have high efficiency, long working lifespan and good reliability (no trouble like dying when starting after long-time stopping to use) which are the best choice adapting to building fire-used and spraying-used pump. The function of products complies with GB6245 The Function Requirement and Test Methods of Fire Pump and passes the test of The Quality Supervising and Testing Center of National Fire Equipment so that the products are now playing a leading role in China and at the same time, obtain the permit from Shanghai Fire Bureau. The products are used to convey pure water with no solid particle under 80 and liquid with physical and chemical character similar to water. On the prerequisite of satisfying fire industry and mining, the products can both conform to the requirements of industry and mining in life and factory water-supplying, that is to say, the products can be applied in water-supplying system of fire-preventing and the one in shared water-supplying system of fire-preventing and life and in building, municipal construction ,industry and mining, water-supplying and draining, shipping and field operation as well.
The whole set of XBC Diesel Engine Fire Pump and electric appliances can self-finish the starting procedure and quickly put into full-load operation with its comprehensive function, high automatic level, tight structure, problem-alarming and starting signal-accepting. The whole machine has been develop with vibration reducing machine, rubber connecting point, wave tube voice eliminating machine at exhaust. Under the circumstance of less fuel, low voltage in storage battery, high temperature of lubricating oil and speed-exceeding , the alarm apparatus and pre-heating apparatus of the entire system will make sure to start the Diesel Engine under low temperature, which is totally safe, reliable and convenient to use.
III Xbd/C Type Motor/Engine Fire-Fighting Units Capability
Motor pump is main fire pump, it will auto start on fire time
Jockey pump maintain the system pressure
Diesel pump is back up pump, it will auto start without electricity
Diesel pump will auto start when Motor pump was breakdown
IV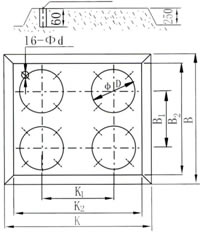 Basic figure for flexible joint
Drill swelling screw orifice Drawing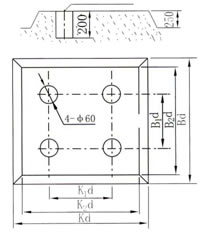 Basic figure for frigid joint
Preserced screw orifice Drawing
Type
Basic figure for flexible joint dimensions
Basic figure for frigid joint dimmensions
K1
B1
K2
B2
K
B
D
Fd
K1d
B1d
K2d
B2d
Kd
Bd
XBC1.9/5-50
750
216
1110
366
1160
416
130
8.5
750
216
1110
300
1160
350
XBC2.9/5-50
850
240
1210
390
1260
440
130
8.5
850
240
1210
390
1260
440
XBC3.8/5-50
908
240
1268
390
1318
440
130
8.5
908
240
1268
390
1318
440
XBC4.8/5-50
939
385
1299
535
1349
585
130
8.5
939
385
1299
535
1349
585
XBC5.8/5-50
997
385
1357
535
1407
585
130
8.5
997
385
1357
535
1407
585
XBC6.8/5-50
1055
385
1415
535
1465
585
130
8.5
1055
385
1415
535
1465
585
XBC7.8/5-50
1390
445
1750
535
1800
645
130
8.5
1390
445
1750
535
1800
605
XBC2.9/10-65
781
385
1141
535
1191
585
130
8.5
781
385
1141
535
1191
685
XBC4.0/10-65
1130
445
1490
595
1540
645
130
8.5
1130
445
1490
535
1540
605
XBC5.0/10-65
1208
445
1568
595
1618
645
130
8.5
1208
445
1568
535
1618
605
XBC6.1/10-65
1286
445
1646
595
1696
645
130
8.5
1285
445
1646
535
1696
605
XBC2.0/15-80
660
445
1070
635
1120
685
170
12.5
660
445
1070
535
1120
585
XBC4.0/15-80
1025
445
1435
695
1485
745
170
12.5
1025
445
1435
555
1485
605
XBC6.0/15-80
1120
445
1530
695
1580
745
170
12.5
1120
445
1530
555
1580
XBC8.0/15-80
1215
445
1625
695
1675
745
170
12.5
1215
445
1625
555
1675
XBC3.7/20-80
1025
445
1435
695
1485
745
170
12.5
1025
445
1435
555
1485
XBC5.7/20-80
1120
445
1530
695
1580
745
170
12.5
1120
445
1530
555
1580
XBC7.6/20-80
1068
445
1478
695
1528
745
170
12.5
1068
445
1478
555
1528
XBC3.1/25-80
930
445
1340
695
1390
745
170
12.5
930
445
1340
555
1390
XBC4.7/25-80
1025
445
1435
695
1485
745
170
12.5
1025
445
1435
555
1485
XBC6.4/25-80
1315
445
1725
695
1775
745
170
12.5
1315
445
1725
555
1775
XBC3.7/30-80
1025
445
1435
695
1485
745
170
12.5
1025
445
1435
555
1485
XBC4.9/30-80
1315
445
1725
695
1775
745
170
12.5
1315
445
1725
555
1775
XBC5.7/30-100
1075
445
1725
695
1775
745
170
12.5
1075
445
1725
555
1775
605
XBC9.3/30-100
1270
694
1920
1034
1970
1084
260
12.5
1270
445
1920
555
1970
900
XBC12.8/30-100
1400
694
2050
1034
2100
1084
260
12.5
1400
445
2050
555
2100
900
XBC5.4/35-100
1075
445
1725
785
1775
835
260
12.5
1075
694
1725
555
1775
605
XBC7.1/35-100
1930
445
2580
785
2630
835
260
12.5
1930
694
2580
555
2630
605
XBC8.0/35-100
1270
694
1920
1034
1970
1084
260
12.5
1270
445
1920
850
1970
900
XBC9.0/35-100
1270
694
2050
1034
1970
1084
260
12.5
1270
694
1920
850
1970
900
XBC10.8/35-100
1400
694
2050
1034
2100
1084
260
12.5
1400
694
2050
555
2100
900
XBC12.5/35-100
1400
694
2050
1034
2100
1084
260
12.5
1400
694
2050
555
2100
900
XBC5.3/40-100
1105
445
1755
785
1805
835
260
12.5
1105
445
1755
850
1805
605
XBC8.8/40-100
1270
694
1920
1034
1970
1084
260
12.5
1270
694
1920
850
1970
900
XBC12.0/40-100
1400
694
2050
1034
2100
1084
260
12.5
1400
694
2050
850
2100
900
XBC5.2/45-100
1105
445
1755
785
1805
835
260
12.5
1105
445
1755
555
1805
605
XBC8.5/45-100
1270
694
1920
1034
1970
1084
260
12.5
1270
694
1920
850
1970
900
XBC11.8/45-100
1820
694
2470
1034
2520
1084
260
12.5
1820
694
2470
850
2520
900
XBC3.9/50-100
1075
445
1725
785
1775
835
260
12.5
1075
445
1725
555
1775
605
XBC6.1/50-100
1270
694
1920
1034
1970
1084
260
12.5
1270
694
1920
850
1970
900
XBC8.6/50-100
1400
694
2050
1034
2100
1084
260
12.5
1400
694
2050
850
2100
900
XBC11.0/50-100
1820
694
2470
1034
2520
1084
260
12.5
1820
694
2470
850
2520
900
XBC4.7/55-100
1800
445
2450
785
2500
835
260
12.5
1800
445
2450
555
2500
605
XBC7.6/55-100
1270
694
1920
1034
1970
1084
260
12.5
1270
694
1920
850
1970
900
XBC10.5/55-100
1820
694
2470
1034
2520
1084
260
12.5
1820
694
2470
850
2520
900
XBC5.1/60-125
1820
445
2470
785
2520
835
260
12.5
1820
445
2470
555
2520
605
XBC7.4/60-125
1404
694
2054
1034
2104
1084
260
12.5
1404
694
2054
850
2104
900
XBC9.0/60-125
1404
694
2054
1034
2104
1084
260
12.5
1404
694
2054
850
2104
900
XBC5.4/65125
1274
694
1924
1034
1974
1084
260
12.5
1274
694
1924
850
1974
900
XBC8.8/65-125
1744
694
2394
1034
2444
1084
260
12.5
1744
694
2394
850
2444
900
XBC3.4/70-125
1165
445
1815
785
1865
835
260
12.5
1165
445
1815
555
1865
605
XBC5.8/70-125
1404
694
2054
1034
2104
1084
260
12.5
1404
694
2054
850
2104
900
XBC8.6/70-125
1744
694
2394
1034
2444
1084
260
12.5
1744
694
2394
850
2444
900
XBC4.5/80-125
1274
694
1924
1034
1974
1084
260
12.5
1274
694
1924
850
1974
900
XBC7.6/80-125
1744
694
2394
1034
1244
1084
260
12.5
1744
694
2394
850
2444
900
V Xbc Type Diesed Engine Fire Pump Base Mounting Dimensions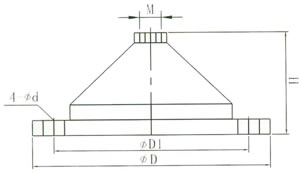 XBC TYPE DIESED ENGINE FIRE PUMP BASE MOUNTING DIMENSIONS Drawing
| | | | | | |
| --- | --- | --- | --- | --- | --- |
| TYPE | M | D | D1 | H | d |
| JGD2 | 12 | 150 | 130 | 65 | 7 |
| JGD3 | 16 | 200 | 170 | 87 | 11 |
| JGD4 | 20 | 290 | 260 | 133 | 11 |