H44N Brass Swing Check Valve for Oxygen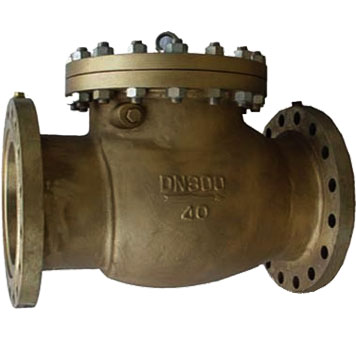 This product is applicable to oxygen pipe network systems worked as one-way valve, playing a role of cuuting off and check, such as preventing cold air backflow in the oxygen system and the mixture of nitrogen and oxygen inthe slag furnace.
The product consists of body, bonnet, disc, etc. The medium enters from one side and makes the disc rising, medium flow; when the medium pressure loses or outlet pressure is greater than inlet pressure, the disc drops automaticly to close the channel, works as check effect. The main parts materials selects silicon brass, with a good fire retardant properties.
Materials
DN
15 - 600 mm
Pressure (MPa)
1.6
2.5
4.0
Test Pressure
(MPa)
Body
2.4
3.75
6.0
Seal
1.76
2.75
4.4
Temperature
-20°C - 200°C
Fluid
Oxygen
Body
Silicon Brass ZCuZn16Si4
Plug
Brass / Stainless Steel
Packing
Teflon (PTFE) / Nylon
Dimensions and Weights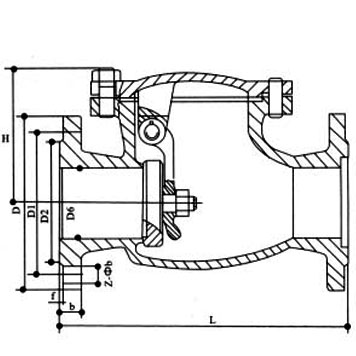 Nominal Diameter ( mm )
Dimensions ( mm )
weight / Kg
L
D
D1
D2
D6
b
Z-фd
D3
H
50
230
160
125
100
88
20
4-ф18
185
172
20
65
290
180
145
120
110
22
8-ф18
210
182
30
80
310
195
160
135
121
22
8-ф18
210
192
35
100
350
230
190
160
150
24
8-ф23
260
217
50
125
400
270
220
188
176
28
8-ф25
295
250
75
150
480
300
250
218
204
30
8-ф25
330
270
105
200
550
375
320
282
260
38
12-ф30
390
320
160
250
650
445
385
345
313
42
12-ф34
445
356
240