500X Pressure Relief, Pressure Sustaining Valve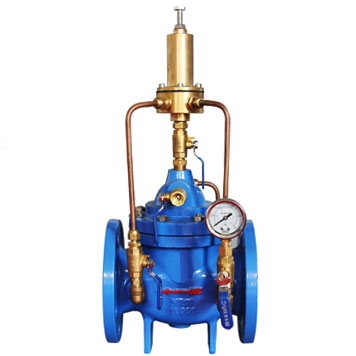 Overview
500X Pressure Relief, Pressure Sustaining Valve maintains the inlet pressure at minimal reselected value. To hold a steady line pressure the valve is opening fast and closed gradually to prevent surge. If installed on a by-pass line, main line pressure is accurately controlled by relief of excess pressure.
500X Control Valve is used in the pipeline system to prevent of surpassing pressure or to keep the pressure of it, to reduce the water hammers shock after the pump is closed and also used as a water hammer remover in the large water supply system.
A self cleaning filter screen is placed on the inlet of the valves control system, which stops the suspension grains of the bigger specific gravity and diameter from going into the system by means of the bigger specific gravity of the fluid to ensure the main valves water supply pressure at the upstream at the set value, and to get the system circulated smoothly without any resistance. This valve features by sensitive open-close, safety, reliability, stable motion and long duration.
Materials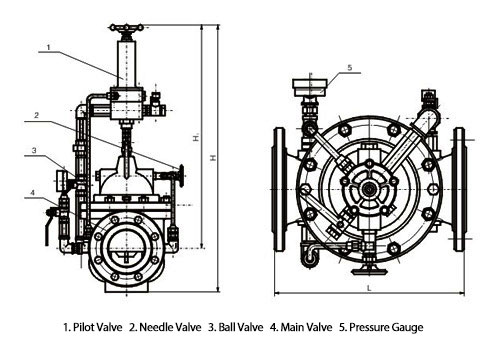 | | | |
| --- | --- | --- |
| Serial No. | Part | Material |
| 1 | Body | Cast Iron (GG25, HT200) / Ductile Iron (GG40, QT) |
| 2 | Pin | Bronze |
| 3 | Seat | 410 S.S. / SS 304 / SS 316 |
| 4 | O-ring Gasket | NBR |
| 5 | O-ring | NBR |
| 6 | O-ring washer | Cast Iron |
| 7 | O-RING | NBR |
| 8 | Stem | 410 S.S. / SS 304 / SS 316 |
| 9 | Disc | Cast Iron (GG25, HT200) / Ductile Iron (GG40, QT) |
| 10 | Diaphragm | Rubber |
| 11 | Diaphragm washer | Bronze |
| 12 | Ball valve | Bronze |
| 13 | Nut | H62 |
| 14 | Spring | ASTM 6150 |
| 15 | Cover | Cast Iron (GG25, HT200) / Ductile Iron (GG40, QT) |
| 16 | Pilot Socket | H62 |
| 17 | Nut | 35 |
| 18 | Stud | 35 |
| 19 | Ball valve | Bronze |
| 20 | Pressure relief valve | Bronze |
| 21 | Ball Valve | Bronze |
| 22 | Pressure show | |
| 23 | Needle valve | Bronze |
| 24 | Micro-strainer | 304 |
| 25 | Connection socket | Cast Iron |
Dimensions
DNmm
20
25
32
40
50
65
80
100
125
150
200
250
300
350
400
450
500
L
180
180
180
203
203
235
285
360
400
455
585
650
800
860
915
980
1075
PN10
D
105
115
135
145
160
180
195
215
245
280
335
390
440
500
565
615
670
D1
75
85
100
110
125
145
160
180
210
240
295
350
400
460
515
565
620
PN16
D
105
115
135
145
160
180
195
215
245
280
335
405
460
520
580
640
705
D1
75
85
100
110
125
145
160
180
210
240
295
355
410
470
525
585
650
PN25
D
105
110
135
145
160
180
195
230
270
300
360
425
485
550
610
660
730
D1
75
85
100
110
125
145
160
190
220
250
310
370
430
490
550
600
660
H
550
550
550
610
610
625
645
750
808
864
1135
1185
1325
1385
1445
1325
1430
H1
460
460
460
516
516
520
538
596
655
710
805
855
955
990
1030
905
960
Installation