JD745X Pump Control Valve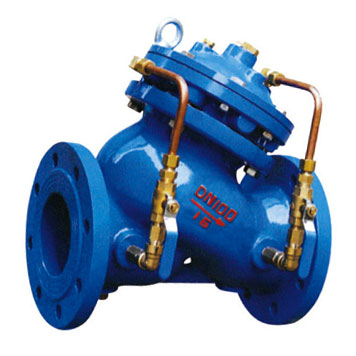 Overview
JD745X pump control valve is mounted on the water pumps outlet pipeline of the high buildings and other water supply systems to prevent of the mediums back-flow and the water hammer and water shock.
JD745X pump control valve has good effect of water hammer removal. Integrating the technical principles of water hammer removal by means of slow open, quick close and slow close, so as to prevent of the water hammers at both pump start and stop.
Easy operation. The valve will open or close automatically as per the operation procedures of the pump, once operates the On-Off button of the pumps motor.
Good effect of energy saving. The valve body is designed as full-path straight-flow type, resulting in small pressure loss, big flow, small volume and light weight.
Performance
Nominal Pressure
(MPa)
Shell Test
(MPa)
Sealing Test
(MPa)
Fluids
Fluids Temp
(°C)
1.0
1.5
1.1
Water
0-80
1.6
2.4
1.76
2.5
3.75
2.75
Materials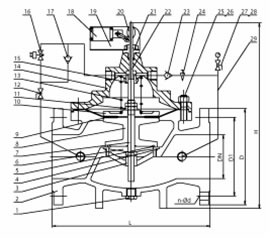 | | | |
| --- | --- | --- |
| No. | Part | Material |
| 1 | Plug | Alloy Bronze |
| 2 | Body | Cast Iron (GG25, HT200) / Ductile Iron (GG40, QT) |
| 3 | Seat | 410 S.S. / SS 304 / SS 316 |
| 4 | O-Ring | NBR |
| 5 | O-Ring | NBR |
| 6 | O-Ring Retainer | Cast Iron |
| 7 | Stem | 410 S.S. / SS 304 / SS 316 |
| 8 | Disc | Cast Iron (GG25, HT200) / Ductile Iron (GG40, QT) |
| 9 | Diaphragm | Rubber |
| 10 | Diaphragm washer | Cast Iron |
| 11 | Nut | Alloy Bronze |
| 12 | Ball valve | Alloy Bronze |
| 13 | Spring | Stainless steel |
| 14 | Cover | Cast Iron (GG25, HT200) / Ductile Iron (GG40, QT) |
| 15 | Pilot socket | Alloy Bronze |
| 16 | Solenoid valve | Alloy Bronze |
| 17 | One-way valve | Alloy Bronze |
| 18 | On/Off | |
| 19 | Yoke | Steel |
| 20 | Limitation piece | Alloy Bronze |
| 21 | Plug | Alloy Bronze |
| 22 | Metering | 410 S.S. |
| 23 | One-way valve | Alloy Bronze |
| 24 | Needle Valve | Alloy Bronze |
| 25 | Nut | Steel |
| 26 | Screw | Steel |
| 27 | Ball valve | Alloy Bronze |
| 28 | Pressure Gauge | |
| 29 | Connection Pipe | Alloy Bronze |
Dimensions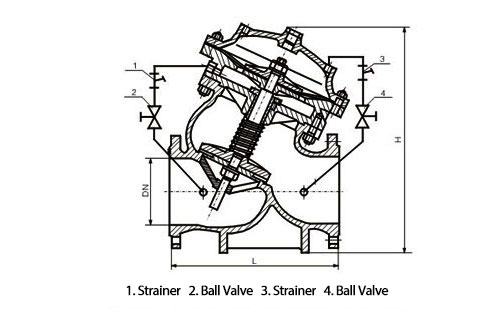 DN
L
D
D1
n-d
H
1.0MPa
1.6 (MPa
2.5 MPa
1.0MPa
1.6 MPa
2.5 MPa
1.0MPa
1.6 MPa
2.5 MPa
50
205
165
165
165
125
125
125
4-18
4-18
4-18
293
65
216
185
185
185
145
145
145
4-18
4-18
8-18
328
80
250
200
200
200
160
160
160
8-18
8-18
8-18
364
100
320
220
220
235
180
180
190
8-18
8-18
8-22
418
125
365
250
250
270
210
210
220
8-18
8-18
8-22
481
150
415
285
285
300
240
240
250
8-22
8-22
8-26
543
200
500
340
340
360
295
295
310
8-22
12-22
12-26
673
250
605
395
405
425
350
355
370
12-22
12-26
12-26
792
300
698
445
460
485
400
410
430
12-22
12-26
12-30
927
350
787
505
520
555
460
470
490
16-22
16-26
16-30
957
400
914
565
580
620
515
525
550
16-26
16-30
16-33
1188
450
978
615
640
670
565
585
600
20-26
20-30
16-36
1218
500
978
670
715
730
620
650
660
20-26
20-33
20-36
1256
600
1150
780
840
845
725
770
770
20-30
20-36
20-39
1600
700
1300
895
910
960
840
840
875
2430
24-36
24-42
1750
800
1450
1015
1025
1085
950
950
990
2433
24-39
24-48
1900
Installation